Talking with art advocate Peggy Grant is a lesson in humility.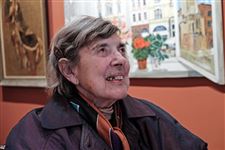 Peggy Grant, 88, at 20 North Gallery in Toledo, Ohio on November 6.
The Blade/Jetta Fraser
Enlarge | Buy This Image
The now elderly Toledoan wore many hats over her 60-year career: a prolific artist, corporate curator, art director, curator of public collections across the country, tireless champion of her husband, Adam Grant's work, and the lesser known title of avid art collector.
"All the while she was meeting these world class artists, she was buying smaller, more modest pieces for herself," said Condessa Croninger, art director at 20 North Gallery. "She wants to be able to share her collection with people who value good work."
That opportunity arises this weekend, during a special gallery showing and sale of 124 pieces from more than 70 then-emerging artists whose work caught Grant's eye over the years. The event will be at 20 North Gallery downtown, where Grant served as art director for 18 years, and still carries the title of art director emerita.
After years of serving others in the world of art, finally, an event that focuses on Grant.
VIDEO: The Grant Collection at 20 North Gallery
Don't try to tell her that, though. Grant is still quick to put the spotlight on someone else when she's asked about her storied career.
"It feels better to talk about other people than me," Grant said during a recent interview with The Blade at 20 North.
And then, later: "I don't want to put any haloes over my head."
And it goes on. Grant, 88, calls many of her accomplishments in life the result of a "good stroke of luck," from her opportunity to study art in one of the Baltimore studios of French painter and mentor Jacques Maroger, to her first job in the field as a commercial designer with the Palmer Paint Co., in Detroit, producing the popular Paint by Number line, under artist Dan Robbins.
It was at Palmer Paint that she met fellow artist, Adam Grant, a Holocaust survivor who came to the United States after his liberation from Nazi concentration camps in Poland. They married and moved to Toledo when the company relocated, and settled into their West Toledo home, which they expanded to include a studio, and which also housed her private collection all of these years.
Always one to promote her husband's work over her own, Grant soon chose to concentrate on the role of art agent for Adam, later expanding that work into museums, corporations, and nonprofits. She curated more than 75 shows during that career.
"She had such a flair for it, and was meeting other artists and started picking up a stable of artists," Croninger said. "She worked with an amazing group of artists from coast to coast."
Her clients included a young, up-and-coming Dale Chihuly and studio glass pioneer Dominick Labino.
In 1981, she was hired to build the corporate collection of Owens-Illinois Inc., when the company moved into its former home on Toledo's riverfront. She put together a stunning collection of hundreds of paintings and other pieces for the company, which were later sold off when the company downsized, Croninger said.
She built up the sculpture collection at Schedel Gardens in Elmore, Ohio, in 2000. She sat on the Toledo Botanical Garden board and acquired work for the garden collection there. She served on committees for the Toledo Museum of Art. She was a founding board member for the Blair Museum of Lithophanes still housed at Toledo Botanical Garden.
In 1977 in downtown Toledo, she put together the first exhibition of work by black artists as a celebration of Black History Month, a show that lasted 37 years.
While traveling the world and putting together shows, she took time to gaze upon work that affected her, and snatch it up.
"I loved collecting art ever since I was a kid, and whenever I could afford it — which wasn't very often — I bought something so I could look at it again, and again," she said. "Great art, the kind that would touch my soul and [late husband] Adam's soul."
Pieces that will be available for sale include work in a variety of 2-D and 3-D media, by artists that include Thomas Hilty, Jeri Hollister, Tom Marino, Shawn Messenger, Jack Schmidt, Ken Thompson, and Adam Grant.
A piece by local artist Joan McKee,View of Prague (1993), that hung over Grant's couch for more than 20 years is included in the sale. A mixed media bust, Sister (1973), by local artist LeMaxie Glover, who had a solo exhibition under Grant, is included the sale. A second piece by Glover, Torso (1964), a piece that Adam Grant had commissioned for their wedding anniversary, is not. Grant chose to keep a few pieces that are close to her heart.
The show will also include Paint By Number canvases and memorabilia created by both Peggy and Adam Grant, as well as some from Peggy's friend who also collected, the late Ann Goodridge.
A private pre-sale event will be Friday night, and it is by invitation only. The show and the collection's deaccessioning will then be made available to the public at the gallery, located at 18 N. St. Clair St., from noon to 4 p.m. Saturday, and from 1-5 p.m. Sunday.
For more information, call 419-241-2400.
Contact Roberta Gedert at rgedert@theblade.com, 419-724-6075, or on Twitter @RoGedert.
Guidelines: Please keep your comments smart and civil. Don't attack other readers personally, and keep your language decent. Comments that violate these standards, or our privacy statement or visitor's agreement, are subject to being removed and commenters are subject to being banned. To post comments, you must be a registered user on toledoblade.com. To find out more, please visit the FAQ.