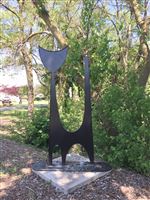 'Sculpture in the Village 2018' opens Saturday at Williams Park in Gibsonburg, Ohio. The show features 33 pieces, including 'Abstract Cat' by Tom Zitzelburger.
There are at least two opportunities this summer to see artwork from area sculptors in outdoor exhibitions.
At Williams Park in Gibsonburg, Ohio, the 14th annual Sculpture in the Village 2018 exhibition opens Saturday.
From 10 a.m. to 5 p.m., visitors can tour the park and vote for the People's Choice Award, which is announced at a public reception the same day, from 6 to 9:30 p.m., at the Rose Foundry/Havens Studio, 211 Cedar St., Gibsonburg.
The exhibit is organized by local sculptor James Havens, with support from the Toledo Area Sculptors Guild and the Gibsonburg Community Corp.
The summer show at the public park has 33 pieces this year, from artists in Ohio, Michigan, and Pennsylvania that include David Eichenberg, Marian Anderson, Pamela Reithmeier, Emanuel Enrique, and Ken Thompson. The show also includes work by Toledo School for the Arts students.
The sculptures stay up all year or sometimes permanently at the park, which is at 410 E Stone St., off State Rt. 300. For more information, go the Gibsonburg Sculpture Park page on Facebook, or call Havens at 419-849-3048.
■ Also on display are 10 new sculptures on the University of Toledo campus that are part of the 13th annual Outdoor Sculpture Exhibition.
Nine of the sculptures have been installed on UT's Main Campus; the final sculpture is on the Health Science Campus. They will stay up all year.
Sculptors involved in the show come from across the country, and include local artist Mike Sohikian, as well as Maureen Gray and Ray Katz.
The UT Campus Beautification Committee chose the large works from proposals submitted from about 170 artists. Since the show's beginning, more than 120 sculptures have been on display on the campus.
For more information on the show, go to bit.ly/2kPx6n2.
■ An exhibition at multiple galleries that depicts small-town American life through paintings by a northwest Ohio artist, is being put on by PRIZM Creative Community and Library House Gallery in Grand Rapids, Ohio.
Art Schumaker's art portrays old barns and stores in the paintings from his residence in Napoleon.
The show has been displayed at Way Public Library, 101 E. Indiana Ave., Perrysburg, through July 30. An opening reception will be from 1 to 3 p.m. June 17. Some of Schumaker's work also will be shown at Sam B's Restaurant, 163 S. Main St., Bowling Green, from July 3 to Sept. 30.
The show is curated by Rebecca Olms of Library House Gallery.
For more information, go to libraryhousegallery.com or call 419-830-3050. PRIZM announced recently that the nonprofit is disbanding, and that this would be one of its last organized shows.
■ The Greater Port Clinton Area Arts Council is hosting its annual Lakeview Park Arts and Crafts Festival from 10 a.m. to 5 p.m. Saturday.
The show features more than 80 art vendors, food, and music, and a children's art station with several different projects for kids to work on.
Lakeview Park is at 1100 E. Perry St., Port Clinton, across from the city's beach. For more information, go the the festival's Facebook page, or ottawacountyarts.org.
■ An opening reception for a solo exhibition featuring painter Greg Justus of Maumee will be from 5:30 to 7:30 p.m. Friday at Schedel Arboretum and Gardens in Elmore.
Justus' show will be displayed through September in the McAlear Gallery.
Schedel Gardens is at 19255 W. Portage River S. Rd. For more information or to RSVP to the reception, go to schedel-gardens.org/calendar.html, or call 419-862-3182. For more on Justus, go to artofjustus.com.
■ Children ages 6 to 11 can participate this year in an art camp at Toledo Botanical Garden.
Elaine's Little Picassos Children's Art Camp runs from July 9-13, from 9:30 a.m. to 12:30 p.m. Kids will create with a variety of media. Cost of the camp is $85.
To register, contact artist Elaine Scarvelis at 419-841-8153 or email elainescarvelis@gmail.com.
Send news of art items at least two weeks in advance to Roberta Gedert at rgedert@theblade.com or 419-724-6075.
Guidelines: Please keep your comments smart and civil. Don't attack other readers personally, and keep your language decent. Comments that violate these standards, or our privacy statement or visitor's agreement, are subject to being removed and commenters are subject to being banned. To post comments, you must be a registered user on toledoblade.com. To find out more, please visit the FAQ.