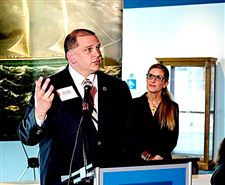 Toledo Mayor Wade Kapszukiewicz speaks after presenting a proclamation from the City of Toledo, congratulating United Way on its 100-year anniversary.
UNITED Way of Greater Toledo is celebrating its centennial anniversary this year. Mayor Wade Kapszukiewicz presented a proclamation from the City of Toledo. An American flag that as flown over the U.S. Capitol was presented from the office of Rep. Marcy Kaptur (D., Toledo).
Looking back to 1918, William H. Gosline, Jr., was the organization's first volunteer campaign chairman, when it was called Community Chest. Ray Loftus was the executive secretary-director in 1920. The first building in 1918 was in the Fifty Associate Building across from the Boody House Hotel. The former community services building on Jackson Street was United Way's home for many years. Architect Byron West designed the building, a memorial to the Stranahan family, who continue to give back to the community. In 2010 a new smaller building, was erected on the same land.
Special honors were given to Dana Inc., FCA-Fiat Chrysler Automobiles, and KeyBank for their gold centennial sponsorship. Owens Corning, O-I, and The Andersons, along with many others, are also sponsors.
Guests didn't just sit around; they assisted with the assembly of 2,000 care kits for children recently admitted into foster care via Lucas County Children Services.
Among the nearly 250 attendees were Emilio Ramirez, president of CAAP/UAW 4282; Mike Kruse, president of Mom's House; Dawn Buskey, chief operating office of ProMedica's Metro Acute Care Division; Keith Burwell, president of Toledo Community Foundation; Brad Toft, president and CEO of YMCA/JCC of Greater Toledo; Jennie Vancil, government a community affairs specialist for O-I; Dave Wehrmeister, executive director of Boys & Girls Club of Toledo; Sheri Copanic of Welltower; and Julie Payeff, community commitment manager at The Andersons.
More celebrations, including public events, will be announced later.
THE Toledo Club's annual Presidents Dinner was an out-of-this-world evening. Marc Raymon, NASA mission director and chief engineer on the Dawn spacecraft project to explore the two largest uncharted worlds in the inner solar system, talked about his experiences in astronomy and space exploration.
Members and guests in formal attire enjoyed a reception then dined at a banquet-style table, set with crystal, linens, and flowers in the main dining room of the stately club. Boutique wines with each course of lobster bisque, a salad of baby kale and wild arugula, veal chop, and poached lobster tail with asparagus and dauphinoise potato, and fresh berries and mascarpone cream.
THE Association of Fund-raising Professionals Northwest Ohio Chapter, inducted member Ken Frisch into the AFP 2018 class of distinguished fellows for leadership contributions to the philanthropic and fund-raising professions. He is the first in Ohio to receive this honor and one of only nine in the world. Jim Greenfield and Abbie von Schlegell are also AFP 2018 Distinguished Fellows.
Mr. Frisch started his career as a high school teacher then served at institutions including Hospice of Northwest Ohio, Bowling Green State University, Ohio University, and the Toledo Community Foundation. Since retirement, he has been busy mentoring young professionals, doing presentations, working with Northwest Ohio organizations, and serving on the ACFRE Certification Board.
HIGHLAND Meadows Golf Club's member appreciation party, Miami Nights, kicked off the summer season. Members, many in Miami Vice costumes, danced all night to throwback hits as they feast on gourmet fare and cocktails including the Vice, a refreshing frozen concoction of 50 percent frozen strawberry daiquiri and 50 percent pina colada. Members will be golfing all summer, except the week of the Marathon Classic July 9-15 at the club.
Barbara Hendel is The Blade's society editor. Contact her at bhendel@theblade.com or call 419-724-6124.
Guidelines: Please keep your comments smart and civil. Don't attack other readers personally, and keep your language decent. Comments that violate these standards, or our privacy statement or visitor's agreement, are subject to being removed and commenters are subject to being banned. To post comments, you must be a registered user on toledoblade.com. To find out more, please visit the FAQ.