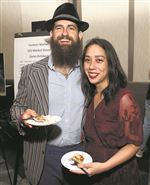 Mike Loomus and Liz Mohler during the Jam City event.
The Blade/Kurt Steiss
Enlarge | Buy This Image
JAM City: the Gourmet PB&J Party presented by Food for Thought at the Renaissance Toledo Downtown Hotel, raised $20,000 for the mobile food pantry, which serves with dignity more than 5,000 individuals and families each year.
More than 550 supporters sampled gourmet dishes inspired by the lunchbox staple peanut butter and jelly sandwich during the 6th annual event.
Twenty top Toledo chefs participated, with offerings including dessert, Mexican cuisine, subs, pizza, gourmet foods, and more. Awards were given for the Most Creative (HoChan Jang of Balance Grille for a papaya salad crunch with peanut butter and jam dressing) and Best Presentation (Aaron Lawson of Brim House for a tomato jam tart with smoked peanut butter mole braised short rib and savory marshmallow creme fraiche).
Durty Bird was the Grand "Jam-pion" for the second year in a row with its PBAT Crostini (pistachio butter crostini with sweet tomato jam, sweet heat bacon crumble, and arugula garnish).
THE annual 'Tinis for Preemies at the Carranor Hunt & Polo Club in Perrysburg celebrated the 10th anniversary of Graham's Foundation, a national organization for support, advocacy, and research to improve the outcomes of premature babies and their families. Jennifer and Nick Hall founded Graham's Foundation in memory of their son, Graham, born prematurely with his sister Reece.
The foundation started with a care package program but has expanded to include a MyPreemie app with information from nationally known authors and leading pediatric and neonatal specialists and a Preemie Parent Mentor Program with 24/7 mentoring across the United States.
Farmhouse tables, old Edison-style strung lighting, and lanterns by Mager Designs set the scene for attendees who feasted on fabulous food by Fowl & Fodder and sipped martinis by Tito's Handmade Vodka, including the Fountain of Youth, the Wildebeest, a classic vodka vesper, and Tito's Garden.
Honored were the 2018 Graham's ambassador family Seryna and Randy LaDue, who delivered their premature son, Caleb Ponce LaDue, at only 22 weeks.
A lively auction included getaway destination packages, premium wines, and "spring spruce up" items such as home power washing by Beerbower Painting, top coat driveway sealing by Perrysburg Residential Sealcoating & Asphalt, premium car washes by Expresso Car Wash, lawn services by Hoops Lawn Services, and Reve Salon and Spa certificates.
Tito's Handmade Vodka doubled the dollars during the auction, and the bids flew after Dr. Christy Lorton of Dermatology Associates and Beth Anne Osborne of Ada Aesthetics matched the dollars raised for the care package program.
Gadding were Kristin, Grace, and Emma Kate Holbrook; Bridgette Holt of Toledo Community Foundation; Chris Becker of Bionix Corporation with JB and Nicole Leboutillier and Jeremy Zeisloft; Robert Scott of Brookside Contracting with Cara Scott and Jennifer King; Pat Sheehan of DMC Technology Group with wife Elaine Sheehan; Patrick Williams of Hylant and wife Rae Anne Williams; Jarrod Demski of Heidelberg Distributing and wife Cheryl Demski; Marge Black; Jane and Dan DiSalle; and Dr. Pedro Roca and wife Stephanie Risk with friends Franco Daino and Vicky Champagne. Also seen were John and Carol Hall, grandparents of Graham's Foundation namesake Graham Nicholas Hall.
More than $43,000 was raised.
SHAKEN or Stirred? Casino Royale presented by ProMedica Flower Hospital Auxiliary at Inverness Club raised more than $24,000 for the ProMedica Goerlich Center to treat Alzheimer's and dementia.
The night included a buffet dinner, a celebrity chefs auction, and games of chance including cards, roulette, a big six wheel, and slot machines.
Richard Leonard auctioned off the celebrity chefs packages from Barr's Public House, The Beirut, Georgio's Cafe International, La Scola Restaurant, Mainstreet Ventures, Mancy's Italian Grill/Bottle Shop, Rosie's Italian Grille, Sundown Cantina, Saba's Bistro 1705, and a few individuals including Michael Sordyl.
Event chairman Barbara Baumgartner was assisted by co-chairmen Patricia Hilfinger, Dianne Tankoos, and Sue Brue and the committee, Barbara Benham, Nicole Brue, Norene Drewicz, Pat Hoehling, Anita Graves, Beverly Janowski, Marge Loshbaugh, Michelle Sprott, Cookie Westmeyer, Katelyn Lewandowski, and Sharon Sordyl.
Sponsors included Comfort Line Ltd, ESD, Joe Torti, Labe Electric/Technology, Hearthland at ProMedica, Marck Associates Inc., Gina Krieger, and Creque's Greenhouse.
Seen were Jerry and Phyllis Deaton, Jerry Baum, Brad and Elaine Lewandowski, Kate Decker, Paul and Kathleen Monol, Sandra Seiple, Barbe Fisher and Bruce Denman, Rebecca Shope, Rick and Annie Strause, and several Flower Hospital staff including Darrell Wachowiak, Sherry Watson, and auxiliary president Susan Kranwal with husband Dr. Neeraj Kanwal, and son Trevor visiting from out of town.
STU and Jo-Jo Goldberg's annual fund-raiser for the American Heart Association in memory of Mr. Goldberg's dad, David, and his college roommate, John Cerutti, raised more than $15,000. The event at The Beirut Restaurant was a night of tasty Mediterranean cuisine and great music provided by the Bowtie Guys. On hand were Trez Gregory and Yvonne Ehrenfried, and former Toledoan Judy Radovsky, Mr. Goldberg's cousin, who came back for the event and to catch up with family after 30 years.
Seen were Renee Goubeaux, Cydney Goldberg, Rosemary Chaban, Paul Devers, David Kuhl, Tom Gibney and Carrie Urrutia, Mike and Wendy Cooper, Scott and Carrie Johnson, Janice Whitcomb, Steve Crossmock, Stevin Groth, Robert Roeger, Judge Stacy Cook, Judge Nicole Khoury and Scott Hayes, Chris Epstein, Steve and Nancy Shall, Steve and Cheryl Rothschild, Cary and Joe Gross, Ed Reinstein, and Marla and Dr. Howard Schecht.
Barbara Hendel is The Blade's Society Editor. Contact her at bhendel@theblade.com or call 419-724-6124.
Guidelines: Please keep your comments smart and civil. Don't attack other readers personally, and keep your language decent. Comments that violate these standards, or our privacy statement or visitor's agreement, are subject to being removed and commenters are subject to being banned. To post comments, you must be a registered user on toledoblade.com. To find out more, please visit the FAQ.