In December, 2013, Katie Fields was recuperating in a Florida hospital bed after delivering a baby girl days before. Her husband, Brandon, was a punter who also was a holder on field goal tries for the Miami Dolphins.
The Dolphins' game against the New England Patriots was on the TV in the hospital room. Katie watched as Brandon awaited the snap on a fake field-goal attempt. As he looked away, the snap came back early, smacking him in the face mask.
Visit the new Inside the Five Brewing Co. on Main Street in downtown Sylvania, and you will see a beer on tap called Snap to the Face, a jalapeno-flavored IPA, inspired by the botched play. "You've got to have fun naming your beers," Brandon says, chuckling.
After eight years playing for the Dolphins, Brandon, a St. John's Jesuit graduate, wanted his next career path to be in the craft beer industry. He fell in love with brewing after receiving a homebrewing kit from Katie, a Notre Dame Academy grad, for a birthday present.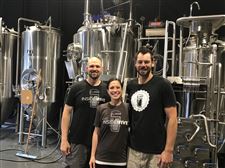 Chris Morris, Katie Fields, and Brandon Fields, who are opening Five Brewing, located at 5703 Main St., Sylvania.
The Blade/Brian Dugger
Enlarge | Buy This Image
"I remember sitting by our pool in Florida, drinking one of his home brews, and I said, 'What if we opened up your own brewery one day?' " Katie recalls. "It was just an idea — a crazy idea. It wasn't until we talked about what he would do after retiring from football, and we came back to Sylvania to visit family and drove around looking at locations. We decided right away that we wanted to be in Sylvania."
The Inside the Five Brewing Co. is at 5703 Main St., in the space formerly occupied by Treo Restaurant.
The brewery plan hatched in Florida was solidified when the couple got Brandon's Michigan State roommate, Chris Morris, to sign on to the venture. Morris, a former lineman for the Oakland Raiders, had zero craft beer experience, but he had an MBA and a business mind that the Fields respected.
"We were courting him for several months," Brandon says.
"He just didn't know we were courting him, but we're happy he agreed, because we wouldn't be here if he didn't," Katie added with a laugh.
Morris, a Bedford High School grad, was looking to get into the corporate finance world, but he was eventually sold on the Fields' vision for opening a Toledo-area brewery.
"I talked it over with my wife and decided it would be fun. Why not?" Morris says. "In Toledo, there are only a few breweries, so you don't get the whole craft beer experience, even like you do in Ann Arbor. I quickly realized the power of craft beer and the need for it in this area."
Many new breweries will begin with five or six taps, then grow into 12-15 as production ramps up. When Inside the Five opened on Memorial Day, there were 18 beers on tap, only three of those guest brews. The styles range from the lighter side — Little Giant, a sessionable IPA with a 4.3 percent ABV, and the Megaphone Irish Red Ale, which has a 4.5 percent to ABV — to stronger beers like Beautiful Death, a double IPA with a 9.6 percent ABV.
"Everybody has their own personal taste. But the market here is very light beer heavy, so with that you need some introductory beers," Brandon says. "I have had people come in who say, 'I only drink this beer or that beer, so what are some beers like that?' So I can give them some of those offerings, then have them move onto other ones."
The food menu is a combination of pub food — chips, wings, chicken fingers, pretzels, flatbreads — and more upscale items, such as the Saison Glazed Salmon and the Cajun Beef Kabob. Beer is used in some of the food, marinades, and sauces. The pretzels are infused with grains from the brewing process. There is also a dessert menu.
"Initially we thought we'd do a small menu and focus on the beer, not the food. But when we got used to our location and the community, we thought our community wanted a restaurant as well, somewhere where they could eat lunch and dinner," Katie says. "The menu was larger than we wanted, but when we sat down with the chef, we didn't know what to take off. We liked everything. We're happy with it."
The community's response has been overwhelming in the first three weeks, making for some long nights and early morning for the owners. Inside the Five went through 40 barrels of beer in the first two weeks, far surpassing Brandon's early expectations but easily within the capabilities of the brewery, which has the capacity to produce 1,100 to 1,200 barrels a year.
"I saw a video on Facebook [from the first day] of this fast-forward line of people coming through our door," Brandon says. "I greeted the first few people, then saw this stream of people and said, 'OK, let's strap it on and get to work.' "
Contact Brian Dugger at bdugger@theblade.com or on Twitter @DuggerBlade.
Guidelines: Please keep your comments smart and civil. Don't attack other readers personally, and keep your language decent. Comments that violate these standards, or our privacy statement or visitor's agreement, are subject to being removed and commenters are subject to being banned. To post comments, you must be a registered user on toledoblade.com. To find out more, please visit the FAQ.