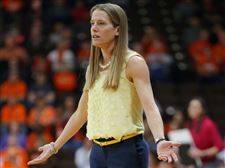 Barnes Arico
THE BLADE
Enlarge | Buy This Image
MADISON, Wis. — Katelynn Flaherty scored 20 of her 25 points in the second half, and Hallie Thome added 20 points as No. 22 Michigan pulled away for an 80-57 win Thursday against Wisconsin that gave coach Kim Barnes Arico the most wins in school history.
Thome opened the game with a pair of baskets in the first minute and the Wolverines (13-3, 2-1 Big Ten) never trailed en route to giving Barnes Arico her 124th win in six seasons. Barnes Arico had been tied with Sue Guevara.
Flaherty had a three-point play in a closing 7-0 run that put Michigan up 18-11 after one quarter.
Deja Church added 10 points, eight in the second half when Michigan shot 55 percent (17 of 31).
Flaherty was 9-of-21 from the field after an uncharacteristic 0-of-6 from 3-point range. The school record holder in 3s with 341 in her career, Flaherty had 19 on 46 percent shooting in the previous three games. She has moved within 56 points of tying Glen Rice as the all-time leader scorer at Michigan, male or female.
Wisconsin (7-9, 0-3) was led by Courtney Frederickson with 16 points but the Badgers were done in by 22 turnovers that were turned into 20 points. Michigan also dominated inside, scoring 46 points in the paint to just 14 for Wisconsin.
Guidelines: Please keep your comments smart and civil. Don't attack other readers personally, and keep your language decent. Comments that violate these standards, or our privacy statement or visitor's agreement, are subject to being removed and commenters are subject to being banned. To post comments, you must be a registered user on toledoblade.com. To find out more, please visit the FAQ.