BOWLING GREEN — No one had to tell Bowling Green State University men's basketball coach Michael Huger he never had beaten Northern Illinois before.
"The past couple of years they were able to beat us because they were tougher, more physical than we were," Huger said. "I was glad to finally beat those guys."
The Falcons found some toughness late to claim a 66-57 victory Tuesday against the Huskies at the Stroh Center. That was important since BG had watched a 15-point lead dwindle to one, turning what seemed to be an easy victory into a nailbiter.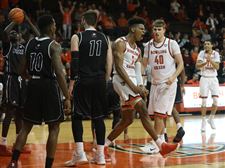 Bowling Green's Demajeo Wiggins reacts to getting fouled near the end of the basketball game against Northern Illinois.
Blade/Lori King Enlarge
"We had [to] huddle up and find that 'fight' that's within us," said Demajeo Wiggins, who posted a double-double with 15 points and 15 rebounds. "We had to fight hard, finish hard, and never give up, and that's what we did.
"We had to protect home court, so it was good for us to get our first home MAC win."
Justin Turner backed Wiggins with 14 points for Bowling Green (11-5, 2-1 Mid-American Conference), and Dylan Frye had 11.
Eugene German scored 19 points, 17 of them in the second half, to lead Northern Illinois (8-8, 1-2 MAC). Levi Bradley finished with 13 and Noah McCarty 10 for the Huskies.
After a 1-for-7 shooting start, the Falcons caught fire. Well, actually Frye — who had missed BG's win Saturday at Eastern Michigan with an ankle injury — caught fire by making back-to-back 3-pointers before Wiggins, a Springfield High School product, followed with five straight points.
That gave BG a 14-6 lead with 12 minutes, 37 seconds still to play in the first half.
After Northern Illinois' Justin Thomas made a 3 to stop the run, the Falcons scored six more points to establish a 20-9 advantage with 10:03 left.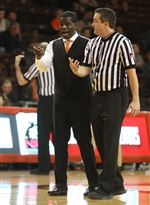 Bowling Green head coach Michael Huger questions a call during the second half of Tuesday's game.
Blade/Lori King Enlarge
"For some reason, when we get home we get a little extra hyped up and anxious to do well in front of our home crowd," Huger said. "Shots get a little crazy in the beginning, but when we were able to settle down we were able to make some shots and go on a little run."
Bowling Green led by as many as 16, and took a 33-19 lead into halftime.
"I told our guys at halftime, 'It's not over,'" Huger said. "They're going to fight back, and we have to match their intensity."
Huger was right, although it took some time before Northern Illinois mounted its comeback as the Falcons lead hovered in double digits in the first 10 minutes.
But German scored nine points in a 14-0 run by the Huskies that turned a comfortable margin into a one-point contest with 5:59 remaining.
"We missed shots, and they're a great transition team," Wiggins said as the Falcons missed five shots and turned the ball over once during NIU's run. "We weren't sprinting back, talking or helping one another.
"We just had to put a stop to that run, and we were able to do that."
Anthony Wayne grad Matt Fox stopped the Huskies' run with a 3 with 5:42 on the clock, and from there the BG defense took charge. The Falcons forced stops on five of Northern Illinois' final six possessions to hold on to the win.
"We tend to get 'happy' on the offensive end, and we forget what got us there — which is the defensive end," Huger said. "You always have to talk about the defense, about getting stops and rebounds and being physical.
"I thought we were able to do that down the stretch."
It also helped Bowling Green got some big baskets during crunch time. Turner hit a 3 with one second on the shot clock at the 2:59 mark, and Wiggins got a rebound basket that turned into a three-point play with 44.1 seconds left to fuel the late run.
And while Huger wasn't happy about having to see the big lead dissipate — "I don't want to be in games like this. When we're up by 15, I want to win by 16, 17, 18," he said — he was satisfied with the way his team closed out the win at both ends of the floor.
"It's been good to be in close games this season, because it has allowed us to figure out a way to get a stop when we needed it," he said. "This is what MAC play is like: You're going to play close games, and you have to protect home court. …
"You don't want to be in too many of these. You want to finish the game the right way. You don't want to be in a dogfight when you're up by that many points."
Contact John Wagner at: jwagner@theblade.com, 419-724-6481, or on Twitter @jwagnerblade.
Guidelines: Please keep your comments smart and civil. Don't attack other readers personally, and keep your language decent. Comments that violate these standards, or our privacy statement or visitor's agreement, are subject to being removed and commenters are subject to being banned. To post comments, you must be a registered user on toledoblade.com. To find out more, please visit the FAQ.