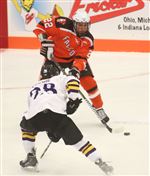 Bowling Green State University's Lukas Craggs, shown earlier this season against Wilfrid Laurier, earned national honors from NCAA hockey this week. He and the Falcons play an important series at Northern Michigan this weekend.
Blade Enlarge
BOWLING GREEN — The Bowling Green State University hockey team has picked a good time to get hot.
The Falcons will take a four-game winning streak into an important Western Collegiate Hockey Association series at Northern Michigan on Friday and Saturday. And BG coach Chris Bergeron said the factors behind his team's recent success are obvious.
"Sports are about momentum and confidence," he said. "Right now we have both, but I believe we have earned both and deserve both."
Bowling Green's recent hot streak came after arguably its most disappointing defeat. The Falcons, ranked No. 14 nationally, looked to burnish their credentials for an at-large bid to the NCAA tournament when they hosted Western Michigan at the Slater Family Ice Arena on Dec. 28.
Instead the Falcons gave up four goals in the first 14 minutes of a 5-2 loss.
"We didn't compete at the level of an at-large national playoff team," Bergeron said. "That game got us back into 'game' mode. We had been off for two weeks [for the holidays], and you just can't simulate game mode. ...
"It certainly wasn't the result we were looking for, but we were able to pick ourselves up and not let that result affect anything beyond that night."
From there, Bowling Green rang in the new year with a 6-4 victory over Michigan and a 4-1 win over Michigan Tech to win the Great Lakes Invitational at Detroit's Little Caesars Arena. And that momentum carried over into a WCHA series at Ferris State that began with a four-goal third-period outburst in a 6-3 victory in Saturday's first game.
When asked if the Great Lakes Invitational victories gave his team momentum entering the weekend, Bergeron said, "If you would have asked me before the games at Ferris State, I would have said, 'How can there not be?' We had two really good days of practice after the GLI — and how could you not?
"We had a lot of pucks go into the net in the GLI, and we haven't been a juggernaut all year long. We scored six and four goals in Detroit, and then we scored six the first night at Ferris."
The Falcons finished the weekend with a 3-0 victory over the Bulldogs. That improved BG's season record to 12-6-6 and gave the Falcons 34 points in WCHA play thanks to a 9-2-5-2 mark.
With the sweep of Ferris State, Bowling Green took over sole possession of second place in the WCHA from this week's opponent, Northern Michigan. The Wildcats, who were picked to finish seventh in the 10-team league in the preseason, instead are third with 31 points thanks to a 9-5-2-2 league record and are 11-10-3 overall.
"With this new WCHA playoff style, we know there's a huge difference between second and third place: [It determines whether] second-round games are played at home or on the road," Bergeron said.
Although both teams will have 10 more league games after this weekend, Bergeron said he and his team realize this is an important weekend.
"I know our guys pay attention to [the standings]," he said. "If we want to be a marquee team and be one of the best teams in the WCHA, we have to go through Northern Michigan to do it.
"We're not putting any extra onus on this game, but this weekend matters."
NOTES: Junior forward Joe McKeown has left the BG program. McKeown had one assist in three games this season after posting one goal and three points in 20 games last season. ... Sophomore forward Lukas Craggs was named national "first star of the week" by NCAA Hockey for his play last week. Craggs was named MVP of the Great Lakes Invitational thanks to two goals and three assists in two games, and he added two goals and an assist in the sweep at Ferris State.
Contact John Wagner at jwagner@theblade.com, 419-724-6481, or on Twitter @jwagnerblade.
Guidelines: Please keep your comments smart and civil. Don't attack other readers personally, and keep your language decent. Comments that violate these standards, or our privacy statement or visitor's agreement, are subject to being removed and commenters are subject to being banned. To post comments, you must be a registered user on toledoblade.com. To find out more, please visit the FAQ.