After an extended second-quarter scoring drought and a total of 19 points at halftime, University of Toledo women's basketball coach Tricia Cullop knew she had to light a fire under her team at halftime.
With the Rockets trailing Ohio 27-19 and enduring an eight-minute stretch with 11 straight missed shots and seven turnovers, it wasn't a matter of if Cullop would lay into her team, it was simply a matter of how the Rockets would respond.
Color the halftime speech a success as Toledo exploded for 56 second half points in a 75-57 victory over the Bobcats on Wednesday night at Savage Arena.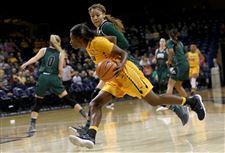 Ohio's Amani Burke follows Toledo's Mikaela Boyd down the court.
Blade/Lori King Enlarge
"I wasn't happy at halftime, because I didn't think that we were playing intelligent offensively," Cullop said. "We had 14 turnovers. We had seven or eight missed layups and I don't think we could have shot ourselves in the foot any more. At halftime we just had to regroup and talk about what it was and how we need to execute offensively. It's hard looking at the score and seeing that we had 75 points and remembering we had 19 at the half. I think challenging them at halftime was the right thing to do."
Mikaela Boyd led Toledo (11-5, 2-2 MAC) with a relentless performance, scoring 17 points, grabbing 19 rebounds and dishing out eight assists.
"Mikaela Boyd put on a show," Cullop said. "She really put us on her back with her willingness to go to the boards. For her to grab 19 rebounds to go with 17 points and eight assists is one of the best performances that I've seen. She is a very unselfish kid and she was trying to do anything she could to help out her teammates. That's what I love about her. She could care less about the stats. She just wanted to win."
Mariella Santucci added 12 points for the Rockets and Kaayla McIntyre and Jay-Ann Bravo-Harriott chipped in with 11 points each.
Gabby Burris paced Ohio (8-7, 2-2 MAC) with 14 points, Amani Burke added 13 points, and Taylor Agler had 11 points.
Toledo came out of the locker room and raced out to an 11-0 run to begin the second half, taking a 30-27 lead with 7:44 remaining in the third quarter. During the run, the Rockets got a layup from McIntyre, a 3-pointer from Santucci, four points from Boyd, and a layup from Sarah St-Fort.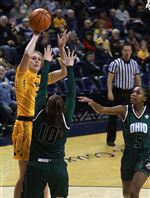 Toledo's Michaela Rasmussen shoots over Ohio's Dominique Doseck during Wednesday's game at Savage Arena in Toledo.
Blade/Lori King Enlarge
"We knew we needed to do better than we did in the second quarter," Boyd said. "We knew we needed to come out and be on it, because we had let them get a run on us before the half. We couldn't let that continue in the second half."
The Rockets led 44-42 after three quarters and scored the first six points of the fourth quarter and then took a 56-44 lead after a 3-point play by McIntyre with 7:20 left in the game.
The Bobcats would cut the lead to eight on two different occasions, but trailed by double digits the last four minutes and 30 seconds of the game.
The win for the Rockets avenged a 78-61 defeat to the Bobcats on Dec. 31 in Athens and snapped a five-game losing streak in the series against Ohio.
"It felt really good," Boyd said. "This was actually my first time beating them in a Toledo uniform. It felt really good to finally get a win against Ohio. They are a really good team and it was good, especially with it being at home."
Toledo, which has struggled at times offensively this season, showed its offensive potential in the second half, shooting 62.5 percent from the field in the third quarter and 69.2 percent in the fourth.
The six-point output in the second quarter served as a wake-up call.
"We needed this," Cullop said. "We needed our team to understand that we can be disciplined defenders and we also needed to know that we could be disciplined offensive players that can not turn the ball over and look and see what the defense was giving us. That's just being intelligent and taking what the defense gives you. The big Achilles heel for us has just been finishing layups. When we finish our layups there is a big difference in how we play. The second half, our kids were very determined to either get fouled or score. You have to be the aggressor and I thought we were the aggressor in the second half."
While the Rockets responded to being challenged at halftime, the players recognize going forward that it shouldn't have to come to that on a regular basis.
"Coach got into us and it lit a fire under us, but we need to do that before she gets to that point," Boyd said.
Contact Brian Buckey at bbuckey@theblade.com, 419-724-6110, or on Twitter @BrianBuckey.
Guidelines: Please keep your comments smart and civil. Don't attack other readers personally, and keep your language decent. Comments that violate these standards, or our privacy statement or visitor's agreement, are subject to being removed and commenters are subject to being banned. To post comments, you must be a registered user on toledoblade.com. To find out more, please visit the FAQ.