COLUMBUS — A season-boosting victory behind it, Ohio State basketball moves onto a different challenge: the schedule.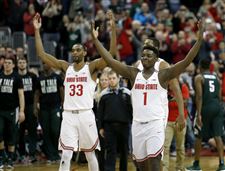 Ohio State forward Keita Bates-Diop, left, and forward Jae'Sean Tate celebrate following their defeat of Michigan State. OSU is 4-0 in the Big Ten.
ASSOCIATED PRESS Enlarge
Starting Thursday against Marlyand, the Buckeyes enter a cramped portion of the schedule, which will have six games in 15 days.
After Thursday in Columbus, Ohio State faces three games in three cities next week. After a Sunday home game against Rutgers, the Buckeyes travel to Northwestern on Wednesday, then to New York City for a game against Minnesota on Saturday.
"I think we're entering the most challenging stretch for us as a program given the number of games we have coming up here and the number of times we're on the road," first-year Ohio State coach Chris Holtmann said Wednesday.
Against all expectations outside of Columbus, the Buckeyes are 4-0 in the Big Ten. They handed Wisconsin its worst loss in the history of the Kohl Center, erased a 20-point deficit to beat Michigan, won at Iowa, and crushed No. 1 Michigan State on Sunday.
Recognition has arrived accordingly. OSU received votes in the most recent AP top 25, and moved up to No. 25 in RPI and 33rd in Ken Pomeroy's rankings.
Both CBS' Jerry Palm and NCAA.com's Andy Katz have Ohio State solidly in their projected NCAA tournament fields.
Holtmann said he likes how the Buckeyes have played for most of the season, but cautioned them against getting too far ahead of themselves.
"I think the reality is we're so early in Big Ten play that I don't think there can be any conclusions drawn," Holtmann told reporters Wednesday. "I understand that people outside of coaches have to try to draw conclusions, but coaches don't because we've just played 22 percent of league games."
The Buckeyes are unbeaten in the league as of now, but Holtmann said it's only natural for ups and downs in a season.
"We know we're going to have some rough patches," Holtmann said. "I think we understand that as a program."
Going forward, Ohio State has its signature win by beating Michigan State, which is the heavy favorite to win the Big Ten and a contender for a No. 1 seed in the tournament.
Though the win was a special one for Holtmann and the Buckeyes, he said his team can't afford to rest now.
"In our mind, it doesn't change anything," Holtmann said. "We're going to try to be as committed as possible to staying in the moment, enjoy working together, enjoy getting better, and whatever happens, happens."
Contact Nicholas Piotrowicz at npiotrowicz@theblade.com, 419-724-6110 or on Twitter @NickPiotrowicz
Guidelines: Please keep your comments smart and civil. Don't attack other readers personally, and keep your language decent. Comments that violate these standards, or our privacy statement or visitor's agreement, are subject to being removed and commenters are subject to being banned. To post comments, you must be a registered user on toledoblade.com. To find out more, please visit the FAQ.