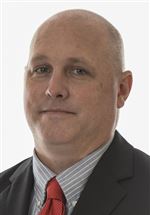 Oliver
Jason Oliver has been named the head women's volleyball coach at the University of Toledo, vice president and athletic director Mike O'Brien announced Thursday.
Oliver comes to Toledo from Indiana, where he spent two years as an assistant coach and recruiting coordinator for the Hoosiers. Prior to that he was the head coach at High Point from 2009-16.
"Jason has all the qualities we desire in a head volleyball coach," O'Brien said in a statement. "His teams have a history of academic success and he has a track record of recruiting high-end talent. He will be a terrific teacher and leader for our young women."
Oliver led High Point to a record of 118-103 during his tenure, both the highest win total and winning percentage in program history. He led the Panthers to a Big South Conference tournament title and NCAA Tournament appearance in 2010.
"My family and I are ecstatic to be coming to the University of Toledo," Oliver said. "I think this program has huge potential, and I'm excited to roll up my sleeves and get after it."
He has also served as an assistant coach at Maryland, Dayton, West Virginia, Towson, and California Lutheran.
Oliver replaces Greg Smith, who served as head coach at Toledo the past nine seasons before resigning in November. Smith put together a 102-161 record in his tenure with the Rockets.
Guidelines: Please keep your comments smart and civil. Don't attack other readers personally, and keep your language decent. Comments that violate these standards, or our privacy statement or visitor's agreement, are subject to being removed and commenters are subject to being banned. To post comments, you must be a registered user on toledoblade.com. To find out more, please visit the FAQ.