Returnees boost veteran OSU receiving corps
1/12/2018
COLUMBUS — Both Parris Campbell and Johnnie Dixon announced Thursday that they would be returning to school for their senior seasons, meaning Ohio State finds itself in a rare position heading into the offseason.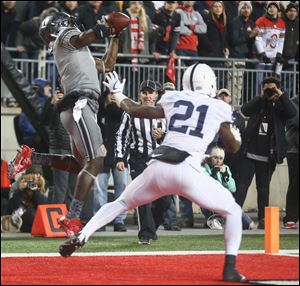 Johnnie Dixon, who led the team in touchdown receptions last season, will return to Ohio State.
Ohio State had 10 players catch at least 10 passes during the 2017, and the Buckeyes are on track to return nine of them.
Only tight end Marcus Baugh, who caught 28 passes as a senior in 2017, will not come back to Ohio State.
Among the scheduled returnees are the top three pass catchers (K.J. Hill, Campbell, and Terry McLaurin), and top three in receiving touchdowns (Dixon, Binjimen Victor, and McLaurin).
Further, only two players who caught a pass last season will not return for certain, as freshman Trevon Grimes, who caught three passes before taking a leave of absence, transferred to Florida to be closer a sick family member.
Ohio State pass-catchers accounted for 287 catches and 39 touchdowns in 2017, and the Buckeyes are scheduled to return players who accounted for 89 percent of their catches and 87 percent of their touchdowns.
The biggest change Ohio State will make in the passing game will be at quarterback, where Dwayne Haskins will take over for four-year starter J.T. Barrett.
Contact Nicholas Piotrowicz at npiotrowicz@theblade.com, 419-724-6110 or on Twitter @NickPiotrowicz