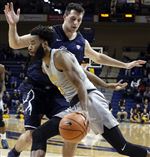 The University of Toledo's Tre'Shaun Fletcher dribbles past Akron's Mark Kostelac in a MAC game from earlier this season.
Blade/Amy E. Voigt Enlarge
Men
Ohio at Toledo
■ Time: 7 p.m.
■ Records: Ohio is 10-14, 3-9 MAC; Toledo is 18-7, 10-2 MAC.
■ TV: ESPN3
■ Radio: 1370 AM
■ Series: Ohio leads 71-58
■ Notes: Toledo is coming off an 73-67 win at Miami on Friday night. … The Rockets have won 13 of their last 15 games after starting the season 5-5. … Toledo sits atop the MAC West and has a three-game lead over Ball State and Western Michigan. … The Rockets are tied with Buffalo for the best record in the MAC (10-2). … Toledo senior Tre'Shaun Fletcher is the only player to rank in the top 10 in the MAC in scoring, rebounding, and assists. Fletcher averages 18.8 points (third), 8.6 rebounds (third), and 4.2 assists (fourth). … He also leads the league in scoring during MAC play at 20.3 points per game. … Jaelan Sanford is sixth in the MAC in scoring at 16.7 ppg. … Toledo is second in the conference in scoring at 80.0 ppg. … Ohio is 1-7 on the road this season. … Ohio freshman guard Teyvion Kirk is the leading freshman scorer in the MAC at 15.1 ppg. He also adds 5.8 rebounds and 3.0 assists per game. … Toledo topped Ohio 91-57 in Athens earlier this season for its largest margin of victory in a conference road win in program history.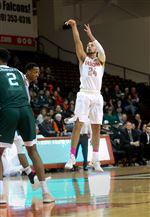 BGSU's Matt Fox, an Anthony Wayne graduate, made four 3-pointers in the Falcons' win over Eastern Michigan Saturday.
BLADE/JETTA FRASER Enlarge
Western Michigan at Bowling Green
■ Time: 7 p.m.
■ Records: Western Michigan is 15-10, 7-5 MAC; Bowling Green is 15-10, 6-6 MAC
■ TV: ESPN3
■ Radio: 100.7 FM
■ Series: Bowling Green leads 70-48
■ Notes: The Falcons look to claim their third straight home win in this important Mid-American Conference contest at the Stroh Center. … Western Michigan, the preseason choice to win the MAC's West Division, is tied with Ball State for third place in the MAC Tournament standings, one game ahead of BG. … If the tournament began today, the Broncos would receive a bye into the quarterfinals while the Falcons would be forced to play a first-round home contest. … WMU has won four of its last five games while BG has won three of its last four. … The Broncos are led by senior guard Thomas Wilder, who ranks second in the MAC in scoring (18.9 ppg) and fourth in assists (4.2 apg). … Western Michigan has won the last two meetings of these two schools after the Falcons had won the previous five in a row. … Bowling Green freshman Justin Turner is on pace to break the school's single-season scoring record set by assistant coach Anthony Stacey, who scored 433 points in 1995-96. Turner has 356 points this season and is on a pace to finish with 445 points. … After making 4-of-5 3-pointers against Eastern Michigan Saturday, Anthony Wayne grad Matt Fox is 31-of-65 on 3's this season for 47.7 percent shooting, the best mark in the MAC. … After this contest the Falcons will hit the road for three of the next four games, starting with a game Friday at Buffalo.
Guidelines: Please keep your comments smart and civil. Don't attack other readers personally, and keep your language decent. Comments that violate these standards, or our privacy statement or visitor's agreement, are subject to being removed and commenters are subject to being banned. To post comments, you must be a registered user on toledoblade.com. To find out more, please visit the FAQ.