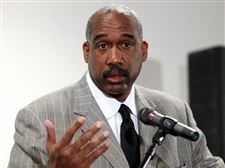 Ohio State athletic director Gene Smith approved a number of pay raises for the OSU football staff.
ASSOCIATED PRESS Enlarge
COLUMBUS — For the first time, Ohio State's football program will pay an assistant coach a salary that crosses the million-dollar mark.
Ohio State director of athletics Gene Smith announced Wednesday that the university will pay defensive coordinator Greg Schiano and offensive coordinator Ryan Day salaries north of $1 million per year. Both men elected to return to Ohio State next season despite interest from National Football League teams.
Day's contract with Ohio State is a three-year deal, while Schiano signed for just the 2018 season.
Ohio State more than doubled the salary of both coaches. Schiano's salary went from $700,000 last season to $1.5 million, while Day received an increase of $600,000 and will be paid $1 million per year.
During the 2017 season, 15 assistant coaches in college football made more than $1 million.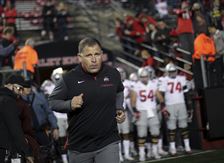 Schiano
ASSOCIATED PRESS Enlarge
Ohio State also announced the length of contracts with its other assistant coaches. The school reached two-year agreements with wide receivers coach Zach Smith, offensive line coach Greg Studrawa, linebackers coach Bill Davis, and offensive coordinator Kevin Wilson, and it agreed to one-year contracts with running backs coach Tony Alford, defensive line coach Larry Johnson, and new hires Alex Grinch (defensive coordinator) and Taver Johnson (cornerbacks).
Every assistant coach who was on the staff previously received a bonus with the exception of Davis.
Ohio State will pay its assistant coaches more than $7 million next season.
Head coach Urban Meyer had a base salary of $6.43 million in 2017. A two-year contract extension, which would keep Meyer at OSU through the 2022 season, is expected to be approved in April.
Michigan assistants Tim Drevno, Pep Hamilton, Don Brown each made more than $1 million last year. According to USA Today's assistant coaching salary database, Toledo's highest paid assistant coach in 2017 was offensive coordinator Brian George, who made $163,224 in base pay. Bowling Green was led by defensive coordinator Perry Eliano, who made $141,143 before being fired in December.
Contact Nicholas Piotrowicz at npiotrowicz@theblade.com, 419-724-6110 or on Twitter @NickPiotrowicz
Guidelines: Please keep your comments smart and civil. Don't attack other readers personally, and keep your language decent. Comments that violate these standards, or our privacy statement or visitor's agreement, are subject to being removed and commenters are subject to being banned. To post comments, you must be a registered user on toledoblade.com. To find out more, please visit the FAQ.