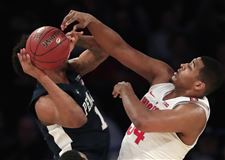 Ohio State went 24-8 during the season and finished second in the Big Ten.
ASSOCIATED PRESS Enlarge
COLUMBUS — Because of the Big Ten's atypical conference tournament this season, Ohio State and the rest of the league is idle during the final weekend before the NCAA tournament.
The four Big Ten teams that are locks for the NCAA tournament — including the Buckeyes — are waiting for seeding as other conferences decide their tournament champions.
In Ohio State's case, even their seeding looks to be set. The Buckeyes (24-8) likely are headed for a No. 5 seed, and most projections have them traveling across the country.
ESPN, CBS, and SBNation all project Ohio State as a fifth seed, in line to play in the 5/12 game notorious for upsets. ESPN has OSU playing in Boise, Idaho, while CBS and SBNation both predicted the Buckeyes to start the tournament in San Diego in their most recent projections.
Ohio State, which will play in its first NCAA tournament in three years, will have at least 13 days between games. The Buckeyes dropped a Big Ten quarterfinal March 2 against Penn State, and will not play until March 15 at the earliest.
The Boise regional is Thursday/Saturday, while San Diego will play its games Friday and Sunday.
The NCAA tournament selection committee will reveal its bracket at 6 p.m. Sunday.
Contact Nicholas Piotrowicz at npiotrowicz@theblade.com, 419-724-6110 or on Twitter @NickPiotrowicz
Guidelines: Please keep your comments smart and civil. Don't attack other readers personally, and keep your language decent. Comments that violate these standards, or our privacy statement or visitor's agreement, are subject to being removed and commenters are subject to being banned. To post comments, you must be a registered user on toledoblade.com. To find out more, please visit the FAQ.