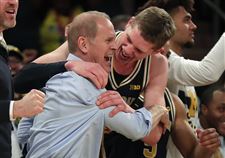 Michigan head coach John Beilein, left, celebrates with forward Moritz Wagner after the Wolverines defeated Purdue to win the championship of the Big Ten Tournament.
ASSOCIATED PRESS Enlarge
ANN ARBOR — Michigan made it in New York.
Now, can the Wolverines prove their worth in Wichita?
Michigan, a No. 3 seed in the West Region, will play No. 14 seed Montana (26-7) at approximately 9:50 p.m. Thursday in Wichita, Kan., in the first round of the NCAA tournament. If the Wolverines win, they'll play the winner of No. 6 seed Houston (26-7) and No. 11 seed San Diego State (22-10) on Saturday.
Should Michigan advance to the regional at Staples Center in Los Angeles, No. 1 seed Xavier and No. 2 seed North Carolina, which beat the Wolverines 86-71 in November, could be standing in their path to the Final Four in San Antonio.
"We're flattered that we have a 3 seed," Michigan coach John Beilein told reporters Sunday night. "But as I said to everybody, a 2, 3, 4 seed doesn't make a difference because who can tell what the 13, 14 and 15 seeds are like?"
DAVID BRIGGS: Michigan, mid-majors jobbed by selection committee
RELATED CONTENT: Ohio State No. 5 seed in West Region ■ Toledo misses out on NIT ■ Cardinal Stritch coach has second job building college tourney field
Michigan is 11-1 since Jan. 29 and won its final nine games of the regular season, including the Big Ten tournament. With a 28-7 record, 13 Big Ten wins, and an RPI ranking of 12, the Wolverines were hoping to be placed in Detroit.
Instead, fellow No. 3 seed Michigan State took that spot despite being swept by UM and having a worse RPI. A better overall record and more impressive losses seemed to give the Spartans the edge.
"We're a 3 seed in the NCAA tournament," Michigan forward Moritz Wagner said. "I have nothing to complain about."
When Michigan tips off, it will do so with 10 days of rest. The Big Ten tournament's move to Madison Square Garden meant a new date. While most of the country played games last week, Michigan had a combination of days off, practice, and a high-intensity scrimmage, which was won by the backups on a Jordan Poole 3-pointer with 0.8 seconds left.
"I think we did a great job keeping them going, but, at the same time, getting them rest," Beilein said. "We're excited about this opportunity, no question about it. We need take one day, probably Tuesday, to really get the cardio up and have one of those knockdown type of practices before we rest on Wednesday."
Beilein added that he was happy with a Thursday-Saturday draw because he didn't want any more days off.
Montana was 16-2 in the Big Sky, winning the regular season championship by two games. They have one win against a Power Five program -- 83-78 at Pitt -- and three losses (70-57 at Penn State, 70-54 at Stanford, and 66-63 at Washington). Including the Big Sky tournament, the Grizzlies won 12 of their 21 games against conference opponents by double figures. They're ranked 76th in the RPI and 71st on KenPom.
"I'm sure they have a great team," Beilein said. "They wouldn't have 26 wins if they weren't a great team."
Contact Kyle Rowland at: krowland@theblade.com, 419-724-6110, or on Twitter @KyleRowland.
Guidelines: Please keep your comments smart and civil. Don't attack other readers personally, and keep your language decent. Comments that violate these standards, or our privacy statement or visitor's agreement, are subject to being removed and commenters are subject to being banned. To post comments, you must be a registered user on toledoblade.com. To find out more, please visit the FAQ.