A University of Toledo men's basketball team that was picked to finish in third place in the Mid-American Conference West Division, exceeded expectations and came one game shy of breaking a 38-year NCAA tournament drought.
The Rockets used a trip to Italy in the offseason to become closer as a team, and that paid dividends during the season. This year's team was a group that genuinely enjoyed playing with each other. They won the West title and reached their first MAC title game since 2014.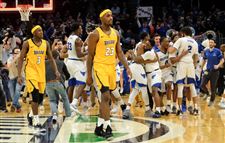 University of Toledo players Willie Jackson (23) and Marreon Jackson walk off the court after losing 76-66 to Buffalo in the MAC Tournament championship game.
BLADE/JEREMY WADSWORTH Enlarge
After a dramatic 64-63 win Friday against Eastern Michigan in a MAC tournament semifinal, Toledo fell short against MAC regular-season champion Buffalo in a 76-66 loss in Saturday's title game.
Toledo did not receive a bid to the NIT on Sunday night and declined to play in the CBI or CIT tournaments, so their season is finished at 23-11 overall.
DAVID BRIGGS: Michigan, mid-majors jobbed by selection committee
RELATED CONTENT: Ohio State No. 5 seed in West Region ■ Third-seeded Michigan will face Montana in Wichita ■ Cardinal Stritch coach has second job building college tourney field
"I love this group," Toledo junior Nate Navigato said after the Buffalo game. "This team was awesome to play with. We have great guys, so unselfish. I wouldn't trade it in for anything in the world. I thought we had a great year and we should keep our heads up high. Obviously it didn't end the way we wanted it to, but we played super hard and that's all we can ask."
VIDEO: Toledo does not receive bid to NIT
Toledo was left wondering what might have been, as MAC player of the year Tre'Shaun Fletcher injured his knee late in Thursday's quarterfinal game against Miami and again on the first play of the game against Eastern Michigan, then missed all of the championship game against Buffalo. Fletcher was Toledo's first conference player of the year since Harvey Knuckles in 1981.
"Obviously we're kind of disappointed at the game because we feel like we are the better team," Sanford said. "We feel we should have won even without Tre. We have Tre, the player of the year, it's a different ballgame. But at the same time, we accomplished a lot this year. I wouldn't say we're satisfied, but we're definitely not disappointed at the whole year. We definitely got better. We have a lot to look forward to next year in the postseason."
UT coach Tod Kowalczyk said he felt Toledo with Fletcher would have proven to be the better team.
"We just couldn't catch a break with that, to be honest with you, because I really felt, I thought they were a little more athletic, a little deeper," Kowalczyk said. "I thought we were more skilled and a little more disciplined, and I thought we were the better team, but we didn't get a chance to show that. Over time we probably could have, but we didn't get a chance to show that tonight without Tre."
Kowalczyk said all season long this was a special group to coach. He loved the leadership of Fletcher and the unselfishness of his team.
"I'm disappointed we didn't win for our players, first and foremost, because I really believe that they deserved as good as they've been all season long, they deserved something special at the ending," Kowalczyk said. "Just because you deserve it, doesn't always mean you're going to get it or have luck on your side."
Contact Brian Buckey at: bbuckey@theblade.com, 419-724-6110, or on Twitter @BrianBuckey.
Guidelines: Please keep your comments smart and civil. Don't attack other readers personally, and keep your language decent. Comments that violate these standards, or our privacy statement or visitor's agreement, are subject to being removed and commenters are subject to being banned. To post comments, you must be a registered user on toledoblade.com. To find out more, please visit the FAQ.