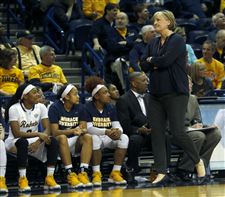 Toledo head coach Tricia Cullop and the Rockets will be playing in the WNIT.
BLADE/LORI KING Enlarge
The University of Toledo women's basketball team earned an invite to the WNIT, the Rockets found out Monday night.
Toledo is one of three Mid-American Conference teams selected into the 64-team field, joining Ball State and Miami.
The Rockets will host Wright State on Friday in the first round.
Toledo finished the regular season 17-14 overall and 8-10 in the MAC during the regular season. The Rockets earned a No. 7 seed in the MAC tournament but was upset by No. 10 Kent State in a first-round game at Savage Arena.
Contact Brian Buckey at bbuckey@theblade.com, 419-724-6110, or on Twitter @BrianBuckey.
Guidelines: Please keep your comments smart and civil. Don't attack other readers personally, and keep your language decent. Comments that violate these standards, or our privacy statement or visitor's agreement, are subject to being removed and commenters are subject to being banned. To post comments, you must be a registered user on toledoblade.com. To find out more, please visit the FAQ.