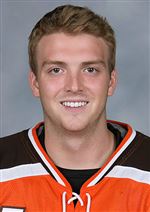 Bowling Green State University defenseman Alec Rauhauser was named the WCHA defenseman of the year Tuesday.
Bowling Green State University Enlarge
BOWLING GREEN — Bowling Green State University's Alec Rauhauser was named Western Collegiate Hockey Association defenseman of the year, the league announced Tuesday.
A sophomore who hails from Bismarck, N.D., Rauhauser also earned All-WCHA first team honors this season.
Rauhauser, a WCHA All-Rookie Team selection last season, ranked second among league blue-liners with a plus-16 rating this year while tallying six goals, 20 assists (tied for first among league defensemen), and 26 points (second) in 28 WCHA games.
He also tallied 13 power-play assists, more than any other WCHA defenseman, and a WCHA-high 16 power-play points.
Rauhauser also ranked among the WCHA's top 20 defensemen with 34 blocked shots in 17 games.
His 0.95 points per game (39 points in 41 contests) ranks seventh among NCAA blue-liners.
Guidelines: Please keep your comments smart and civil. Don't attack other readers personally, and keep your language decent. Comments that violate these standards, or our privacy statement or visitor's agreement, are subject to being removed and commenters are subject to being banned. To post comments, you must be a registered user on toledoblade.com. To find out more, please visit the FAQ.