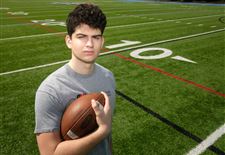 Joey Carroll, a tight end at St. Francis De Sales, has committed to play football at the University of Toledo.
THE BLADE/JEREMY WADSWORTH
Enlarge | Buy This Image
For St. Francis de Sales tight end Joey Carroll, it always was going to be the University of Toledo.
The hometown school was the first to offer Carroll a scholarship, the most consistent at keeping in touch, and ultimately the program and coaching staff that made Carroll the most comfortable.
Carroll attended Junior Day at Toledo earlier this year and a week later, he had a scholarship offer from the Rockets. The Knights' junior and member of the class of 2019 committed to Toledo on Sunday.
WATCH: St. Francis standout Joey Carroll highlight reel
"I've lived in Toledo all of my life, and I was born and raised here," Carroll said. "I've been watching Toledo my whole life. Being able to play for my hometown [team] has always been a big thing for me. It's exciting. My family is here, and everyone will get to watch me play. My friends are staying here. I love Toledo, so I'm just really excited."
St. Francis coach Dan Chipka checked in with Carroll almost daily during the recruiting process. He got the impression Toledo was the favorite from the start, and Carroll left little doubt as he committed early in the recruiting process.
"They put their faith in me first before any other team," Carroll said.
Carroll also had offers from Bowling Green, Eastern Michigan, Western Michigan, and Army among others, according to 247Sports.com.
As a junior in 2017, Carroll caught 14 passes for 211 yards and two touchdowns. He also blocked two kicks and was a blocker for the top rushing offense in the Three Rivers Athletic Conference. He was named honorable mention All-TRAC.
Chipka said Carroll is the focus of the St. Francis offense and his versatility is a nightmare for opposing defenses.
"Toledo is getting a five-tool player," Chipka said. "He's a hard-nosed, blue-collar, throwback player who is the cornerstone to everything we do here at St. Francis both on the ground and through the air. He has the perfect combination of size, strength, toughness, and athleticism.
"He's certainly been a weapon for us in a multitude of different positions. We've used him as an in-line blocker, we've split him out, he's been an H-back for us, and we've used him as a slot receiver. We've had a lot of fun manipulating the defense and using him as a weapon and as a mismatch."
At 6-foot-5 and 230 pounds, Carroll has an impressive frame. He said his main strength is his blocking ability, and he uses his size and speed to create mismatches. Before getting to Toledo, he said he would like to improve his route-running and ball skills in the receiving game.
"Joey has a big frame, and has been moved around in different formations," said Allen Trieu, 247Sports Midwest recruiting analyst. "Today, a lot of tight ends are big receivers so traditional on-the-ball tight ends are somewhat hard to find. This kid can play on the line and block but also line up in the slot and other spots if need be."
Carroll said he watched former Toledo and current Detroit Lions tight end Michael Roberts carefully during Roberts' time with the Rockets. Carroll said he thinks he can be used in a similar fashion to the former UT tight end who caught 15 touchdown passes as a senior in 2016.
He said the fact Toledo has produced an NFL tight end like Roberts was another big draw toward the program.
Chipka said he has been impressed with Carroll's leadership ability.
"Through my time here, he has certainly been a leader for us both on and off the field," Chipka said. "He's performing well in the classroom and he's a really humble kid as well."
Carroll said he felt a level of comfort with Toledo coaches, including head coach Jason Candle, tight ends coach Robby Discher, and linebackers coach Mike Ward.
"I love the coaching staff and I always have," Carroll said. "Coach Discher, coach Candle, and coach Ward, they made me feel like I was at home."
Contact Brian Buckey at: bbuckey@theblade.com, 419-724-6110, or on Twitter @BrianBuckey.
Guidelines: Please keep your comments smart and civil. Don't attack other readers personally, and keep your language decent. Comments that violate these standards, or our privacy statement or visitor's agreement, are subject to being removed and commenters are subject to being banned. To post comments, you must be a registered user on toledoblade.com. To find out more, please visit the FAQ.