The University of Toledo men's basketball team has added two versatile players in Keshaun Saunders and T.J. Smith coach Tod Kowalczyk thinks can contribute right away.
The high school seniors signed national letters of intent Wednesday and will play for UT starting in 2018-19.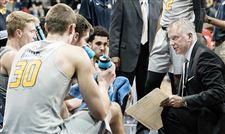 Toledo coach Tod Kowalczyk welcomes T.J. Smith and Keshaun Saunders to the team next season. The duo signed national letters of intent on Wednesday.
BLADE/JEREMY WADSWORTH Enlarge
"I'm extremely excited to add both Keshaun and T.J. and have them join our basketball program," Kowalczyk said. "I think both guys have an unbelievable amount of versatility and skill level that will hopefully affect our program next year."
A 6-foot-5 guard, Saunders averaged 21.3 points, 3.4 rebounds, 2.2 assists, and 2.1 steals per game this past year for Orangeville Prep in Mono, Ont.
"He's a very versatile guard with length," Kowalczyk said. "Right now he plays more off the ball, but with his feel, I think he could be a lot like Tre'Shaun Fletcher in the way that Tre'Shaun for the most part played point guard for us last year. The ball was in his hands that much, and I can see that with Keshaun."
Kowalczyk said Saunders already is a good shooter and will add to a strong core of players like Jaelan Sanford, Nate Navigato, and Marreon Jackson who can make shots.
"I love having shooters," Kowalcyzk said. "And I love having guys who can stretch the floor. I look at Keshaun as a guy who is a very good shooter and I think he could be an elite shooter."
Smith played this past season for Aspire Academy, a national high school program located in Louisville. In 2016-17, Smith averaged 14 points and seven rebounds for Wesley Christian High School in Allen, Ky.
Kowalczyk envisions Smith, who is 6-foot-9, as a forward who also can be effective on the perimeter.
"T.J. is a skilled forward with some really good athleticism," Kowalczyk said. "He's a stretch-four that can probably defend three different positions. He brings some versatility defensively. Offensively, I like how he has very good feel. He needs to be a little more consistent on his perimeter shot, but I know he is willing to work at it."
With Saunders and Smith in the mix, Kowalczyk is excited for next season.
"I think they both add a lot of value to our program in a lot of different ways," Kowalczyk said. "Both guys have been here multiple times already and have gotten to know our players pretty well. Our guys are excited to have them."
After seeing three players — Taylor Adway, Justin Roberts, and Dwayne Rose, Jr. — announce their plans to transfer during the offseason, Toledo has two available scholarships left for next season.
Kowalczyk and his staff are targeting Tennessee transfer and former Scott High School star Chris Darrington with one of the available scholarships.
Contact Brian Buckey at: bbuckey@theblade.com, 419-724-6110, or on Twitter @BrianBuckey.
Guidelines: Please keep your comments smart and civil. Don't attack other readers personally, and keep your language decent. Comments that violate these standards, or our privacy statement or visitor's agreement, are subject to being removed and commenters are subject to being banned. To post comments, you must be a registered user on toledoblade.com. To find out more, please visit the FAQ.