ANN ARBOR — This isn't a situation with which Ed Warinner is unfamiliar.
Upon arriving at Ohio State in 2012, the Buckeyes had a talented team that stumbled to a 6-7 record during a turmoil-filled 2011 season. For several years, a gifted yet underachieving offensive line held OSU back from its national championship aspirations.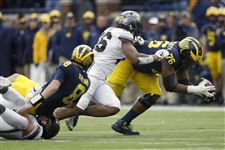 Michigan's Juwann Bushell-Beatty (76) recovers a fumble from teammate John O'Korn during last year's game vs. Ohio State. Keeping the QB clean and opening holes in the run game will be key for the Bushell-Beatty and the UM offensive line in 2018.
Blade/Katie Rausch Enlarge
In came Urban Meyer, who hired Warinner as his offensive line coach, and the unit blossomed into a strength with three NFL draft picks. Combined with a skilled quarterback and rebuilt line, Ohio State went 12-0 in Warinner's first season, and he was named the national offensive line coach of the year by one media outlet.
The preseason similarities at Michigan are striking. The Wolverines — Warinner and Jim Harbaugh chief among them — are aiming for a similar final record.
"Great group of guys," said Warinner, who has been on the job six weeks. "They work really hard, and they care. I think they've really improved on what we're trying to get done. I like where we're at, and I think we can be a very solid Big Ten offensive line."
The expected results haven't panned out the past two years for Michigan, not just for the team but also the offensive line. The unit lagged in 2016 and was porous last season, ranking near the bottom of the country in sacks allowed.
A day can't go by without questions regarding quarterback Shea Patterson's eligibility or the position in general. Who's winning the competition? How does Brandon Peters look? Are Dylan McCaffrey and Joe Milton for real?
The reality is the offense and, by extension, the team's success hinge on the offensive line.
"Really been pleased with the offensive line," Harbaugh said. "Run-blocking is improving, probably one of the best things we're doing right now. As of late, the pass protection has really been improving. Very excited about that."
Juniors Ben Bredeson (left guard) and Michael Onwenu (right guard) as well as sophomore Cesar Ruiz (center) are presumptive starters at their positions, leaving openings at left and right tackle, a competition that includes Toledo native James Hudson, Juwann Bushell-Beatty, Chuck Filiaga, Jon Runyan, Jr., Andrew Stueber, Nolan Ulizio, and Stephen Spanellis. Grant Newsome, who earned a starting role in 2016 but has faced extensive rehab from a leg injury suffered that season, remains a wild card.
"I wouldn't say we feel pressure," Ruiz said. "The entire offensive line is improving. Coach Warinner came in, and he's helped us out a lot. He's a great coach. Coach Warinner is the man. We're becoming a really strong unit. We don't really feel pressure because every practice we're getting better and better. We know what we have to do."
Evaluation was the first step for Warinner, who rewatched the 2017 season, jotted down notes about what went wrong — plenty — and got to work. His objective in the spring is to place each lineman where his strengths are most pronounced, which has drawn positive reviews from players.
"I think we've simplified the offense," Runyan said. "There's not too much thinking. You get down, you make a call. We're not looking around thinking. We tweaked techniques, we're more comfortable."
Many of the same talking points evolved in 2012 at Ohio State, where the Buckeyes' offensive line became the backbone of the nation's 21st-ranked scoring offense. They were physical and cohesive, knocking back defenses with an aggression that would come to define Warinner's units in Columbus.
He's aware of the blame game in Ann Arbor in recent seasons, with finger pointing resting on the offensive line. From afar and now on the inside, Warinner doesn't agree with the characterizations. As the first-team offensive line challenges its defensive counterparts, perhaps the best in the nation, he spots glimpses of what could make them consequential come November.
"If you can hold your own against that defense, then you can hold your own with just about anybody," Warinner said.
"You have to be technique-sound, assignment-sound, and you have to be very physical and play hard. If you don't, you'll get exposed."
Contact Kyle Rowland at: krowland@theblade.com, 419-724-6110, or on Twitter @KyleRowland.
Guidelines: Please keep your comments smart and civil. Don't attack other readers personally, and keep your language decent. Comments that violate these standards, or our privacy statement or visitor's agreement, are subject to being removed and commenters are subject to being banned. To post comments, you must be a registered user on toledoblade.com. To find out more, please visit the FAQ.