OSU notebook: Safety spot still wide open for Buckeyes
4/15/2018
COLUMBUS — As Ohio State coach Urban Meyer went through his team's performance after Saturday's spring game, he checked off most of OSU's preseason questions.
He was happy with the Buckeyes' offensive line and linebackers. OSU looks as if it will be able to comfortably rotate three players at cornerback again, and Luke Farrell has impressed enough to be the leader at tight end.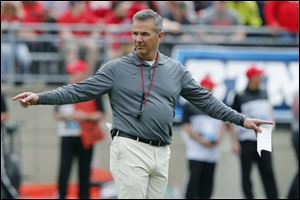 Ohio State head coach Urban Meyer watches his team's spring football game Saturday, April 14, 2018.
But at safety, the Buckeyes still don't know which direction they will travel.
"Field safety is probably our No. 1 concern on our team right now," Meyer said. "We're just not quite sure who that is."
Ohio State has the task of replacing senior Damon Webb, who led the team in interceptions last season. The Buckeyes have no doubts about the boundary safety, where Jordan Fuller is a lock to start.
His partner on the backside of the secondary is not clear. Isaiah Pryor started next to Fuller, but Brendon White, Amir Riep, Wayne Davis, and Jahsen Wint are in the picture as well. Later this summer, Josh Proctor and Marcus Hooker will arrive, and in fall camp, OSU plans to give the entire crew a chance at the open spot.
"Around here, there's no freshman, sophomore, junior," defensive coordinator Greg Schiano said. "If you're the best guy, you'll play."
Schiano said each player in the competition had good moments during the spring, but nobody fully emerged.
"After Jordan, it's been a real battle for the other side and for the backup positions," Schiano said. "I know we don't come out of spring with a clear-cut guy. The competition will continue into training camp."
The Buckeyes will begin the season Sept. 1 against Oregon State. Between now and then, Ohio State hopes for a clearer picture at safety.
"I'm confident we'll have two guys start that game [who] will be really game-ready," Schiano said. "It's developing depth behind it that will be the challenge."
YOUNG SHINES: Sophomore defensive end Chase Young was a menace in the game although the two teams were designed to keep Young and fellow end Nick Bosa lining up against the team's best offensive tackles. Young, who played on both teams by the end, had a sack and was in the backfield all afternoon.
He'll be a sure starter this season, and said he is hoping for more production this year.
"Being a freshman, it was an eye-opener," Young said. "The game was a lot faster. I think this year I am ready to go."
FOR KICKS: Meyer was happy with Sean Nuernberger's spring, saying the senior kicker has been consistent throughout the offseason. He made all four of his field-goal attempts in the game, including a 52-yarder with distance to spare.
NEXT GEN: The pairing of running backs J.K. Dobbins and Mike Weber plus the return of OSU's entire receiving rotation from last season means there will not be much playing time available at the offensive skill positions. Even so, Ohio State saw positive returns from a pair of younger players.
Freshman running back Master Teague is a bruising runner who ran for 73 yards and a touchdown, and receiver Jaylen Harris caught three passes and a touchdown. Teague likely will not see many touches in 2018, but Meyer said Harris is "very close to being in the rotation."
DEPTH CHARGE: Meyer said Ohio State might have its deepest offensive line in his tenure. The Buckeyes think they could go into the season with a full rotation of quality backups, and Meyer said it has "not been that way around here" in past years.
Among starters, Brady Taylor is the favorite to win the starting center role, and Isaiah Prince — a two-year starter at right tackle — could play either tackle position in the fall depending on how OSU sorts its rotation.
"It's the first time I feel like we can have a solid two-deep on the offensive line if everybody does what they're supposed to do this summer," Meyer said.
Contact Nicholas Piotrowicz at: npiotrowicz@theblade.com, 419-724-6110, or on Twitter @NickPiotrowicz.