BOWLING GREEN — The Bowling Green State University football program has subtracted a punter and added a kicker.
Bowling Green officials confirmed Wednesday that punter Cooper Lee is no longer a member of the team. Lee signed a national letter of intent with the Falcons in December, enrolled in school for the spring semester, and participated in spring football.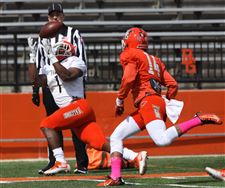 Cooper Lee punts during Bowling Green's spring football game in April. Lee, a transfer from Coffeyville Community College, has left the program.
BLADE/LORI KING Enlarge
Lee averaged 39.4 yards on 80 punts for Coffeyville Community College in Coffeyville, Kan., last season.
Among the candidates currently on the roster to take over the punting duties from Joseph Davidson, the Mid-American Conference's top punter last season, are a pair of redshirt sophomores, Matt Naranjo and Grant Tinnerman.
Naranjo is a transfer from New Mexico who last punted for Niles North High School in Skokie, Ill. Naranjo, who averaged 36.9 yards per punt his senior year, was discovered by New Mexico coaches as a student manager for the team who practiced punting after the team's practices.
Tinnerman played at Centerville High School, where as a senior he averaged 38.6 yards per punt with a long of 58 yards. He also did the kicking for the Elks, connecting on 8-of-10 field goals (with a long of 49 yards) and was 44-for-46 on extra points.
Kicker Niall Sweeney of Mercyhurst Prep announced on Twitter that he was joining the BG program. Sweeney was a kicker for the Mercyhurst Prep football team last season and also was a soccer standout, earning second team All-Region 3 honors as a senior and first team all-region as a junior.
Nate Needham, a transfer from Erie Community College who was a kicker at Youngstown State in 2016, is considered the front-runner to replace Jake Suder, who earned All-Mid-American Conference honors last season. Needham also enrolled at Bowling Green in January and participated in spring practices.
Contact John Wagner at jwagner@theblade.com, 419-724-6481, or on Twitter @jwagnerblade.
Guidelines: Please keep your comments smart and civil. Don't attack other readers personally, and keep your language decent. Comments that violate these standards, or our privacy statement or visitor's agreement, are subject to being removed and commenters are subject to being banned. To post comments, you must be a registered user on toledoblade.com. To find out more, please visit the FAQ.