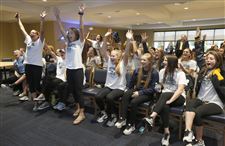 UT women's soccer players react to hearing the team's name called in the NCAA tournament selection show. The Rockets won a MAC title for the first time since 2011.
Blade/Amy E. Voigt Enlarge
For just the second time in the 36-year history of the award, the University of Toledo was awarded with the Jacoby Trophy as the top women's athletic program in the Mid-American Conference.
Toledo also won the award in 2012.
"This is a tremendous recognition for our program," UT vice president and athletic director Mike O'Brien said. "The student-athletes and coaches in our women's programs have truly earned their recognition as the best in the Mid-American Conference."
For the 2017-18 academic year, the Rockets won the MAC women's soccer title for the first time since 2011 and finished second in the MAC in women's cross country and women's golf.
In softball, Toledo (33-20, 16-7 MAC) was MAC West co-champion and earned a berth in the National Invitational Softball Championship, the Rockets' first postseason appearance in 26 years.
The women's basketball team finished the regular season with an 18-15 overall record and participated in postseason in the WNIT.
In track and field, the Rockets finished the outdoor season with a third-place finish in the MAC Championship after posting a fifth-place finish during the indoor meet. In women's tennis, the Rockets finished with a 15-6 overall record, 5-3 in the MAC for a No. 3 seed in the MAC Championship.
Eastern Michigan won the Reese Trophy for the top men's athletic program.
For the Reese and Jacoby trophies, points are awarded based on each school's finish, with the overall total divided by the number of sports sponsored by each school. Toledo participated in 10 sports and earned 89.25 points for a league-best 8.925 average. Miami came in second, averaging 8.05 points per sport.
Guidelines: Please keep your comments smart and civil. Don't attack other readers personally, and keep your language decent. Comments that violate these standards, or our privacy statement or visitor's agreement, are subject to being removed and commenters are subject to being banned. To post comments, you must be a registered user on toledoblade.com. To find out more, please visit the FAQ.