BOWLING GREEN — Bowling Green State University has removed player Datrin Guyton from the football team following a criminal charge filed against him.
In a statement late Wednesday, head coach Mike Jinks said that regardless of the outcome of the case against Guyton, he "has broken terms of the zero-tolerance policy he was already under based on a violation of team rules.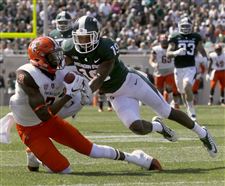 Bowling Green's Datrin Guyton makes a long catch under pressure from Michigan State University defender during a game last year. Guyton has been charged with robbery and may face further charges stemming from a May incident.
Blade/Katie Rausch Enlarge
"From a university standpoint, he may also be held accountable under the terms of the student code of conduct," the coach added.
Guyton, already facing a felony robbery charge, might face further charges from an incident that took place May 23.
According to a criminal complaint, Guyton and De'Janae Fyfe have been charged with robbery, a second-degree felony, after taking a duffel bag from a woman at a Northwood Stop & Go.
Bowling Green city police are investigating the events that led up to that moment, with Guyton and Fyfe facing possible charges of assault, aggravated menacing, and criminal trespassing.
According to records obtained from Bowling Green police, the incident began at a house at 303 E. Merry Ave. in Bowling Green.
Jennifer Avampato, who lives at that house, said in an affidavit filed with BG police that Guyton came to her house in the late morning and asked if a package had been delivered there.
A few hours later, he returned to the house and, according to Avampato in a statement to police, was screaming, "asking [where] his weed is at."
Witness statements allege that Guyton threatened occupants of the house and, at one point, pushed Avampato to the ground and started kicking her in the head. Later, when Avampato left the house, she was followed by Guyton and Fyfe to the Stop & Go location.
The probable cause affidavit filed in Northwood said that while Avampato pumped gas, Fyfe walked over to Avampato's vehicle and took a duffel bag out of her car. Avampato took the bag back, only to have Guyton attempt to grab the bag out of her hands.
In that process, Guyton knocked Avampato down, then dragged her across the pavement as he carried the bag to his car. The affidavit said Guyton and Fyfe drove to the edge of the gas station's parking lot, then dropped the bag in the lot before driving away.
A phone call to a lawyer listed as representing Guyton, Heather Pentycofe of Perrysburg, was not returned.
Guyton, a transfer from Oregon State, originally was suspended from the BGSU team. The senior receiver played in 11 of Bowling Green's 12 games in 2017. He finished with 31 catches for 585 yards, good for third-best on the team in both categories, and had two touchdown catches.
Guyton and Fyfe made their initial court appearance for the robbery charge in Perrysburg Municipal Court on Monday and will have a preliminary hearing on Thursday. Guyton posted bond of $30,000 while Fyfe's bond was set at $25,000.
Avampato, who has obtained a temporary restraining order in court against Guyton and Fyfe, said she had an anxiety attack during the incident and remains worried.
"I'm scared because he threatened to shoot me and my friends," Avampato told The Blade. "All I can think about is him screaming, 'Where's my weed at? Where's my package?'"
Contact John Wagner at jwagner@theblade.com, 419-724-6481, or on Twitter @jwagnerblade.
Guidelines: Please keep your comments smart and civil. Don't attack other readers personally, and keep your language decent. Comments that violate these standards, or our privacy statement or visitor's agreement, are subject to being removed and commenters are subject to being banned. To post comments, you must be a registered user on toledoblade.com. To find out more, please visit the FAQ.