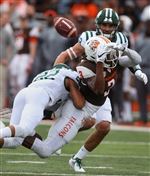 Bowling Green's Datrin Guyton can't make the catch during a 2017 game vs. Ohio. Guyton faces criminal charges from a May incident and has been removed from the BGSU team.
The Blade/Katie Rausch
Enlarge | Buy This Image
BOWLING GREEN — On the day he was dismissed from the Bowling Green State University football team, Datrin Guyton was charged with additional crimes stemming from an incident in May.
Bowling Green police charged Guyton, 22, of Bowling Green, with assault and criminal trespass Wednesday based on an incident that took place May 23 at a house at 303 E. Merry Ave. in Bowling Green, while De'Janae Fyfe, 20, of Detroit, was charged with criminal trespass.
The two also have been charged with robbery, a second-degree felony, by the Wood County Sheriff's Office after being accused of taking a duffel bag from a woman at a Northwood Stop & Go. That incident happened on the same day.
RELATED: Guyton dismissed from BGSU football team Wednesday
Guyton, who would have been a senior receiver this fall, played in 11 of Bowling Green's 12 games in 2017. He finished with 31 catches for 585 yards, good for third-best on the team in both categories, and had two touchdown catches.
Guidelines: Please keep your comments smart and civil. Don't attack other readers personally, and keep your language decent. Comments that violate these standards, or our privacy statement or visitor's agreement, are subject to being removed and commenters are subject to being banned. To post comments, you must be a registered user on toledoblade.com. To find out more, please visit the FAQ.