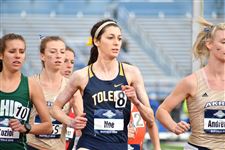 University of Toledo distance runner Janelle Noe advanced to the NCAA track final Thursday with a personal-record time in the prelim race.
UNIVERSITY OF TOLEDO/WILLIAM EDMONDS Enlarge
EUGENE, Ore. — The University of Toledo's Janelle Noe will compete for a national championship Saturday after qualifying for the final in the 1,500-meter run at the NCAA outdoor track and field meet Thursday in Eugene, Ore.
A senior from Northview High School, Noe took nearly six seconds off her personal best in the semifinal race. In a field of 12 runners, Noe finished fourth with a time of 4:10.83, less than a second behind first-place finisher Elinor Purrier of New Hampshire (4:10.08).
"Honestly, I was just going out there and trying to stay within striking distance of the top six or-seven for automatic qualifying," Noe said. "I just kept telling myself to hang on and focused on staying in that top-seven group, and then made a move in the last 400 meters to stay solid."
The 12-runner final will be held at Heyward Field at 6:41 p.m. Saturday.
VIDEO: Noe qualifies for national finals in 1,500
Noe is the current Mid-American Conference record holder in the event. She has worked her way back from a horrific accident in January, 2016, when she was severely burned from head to toe at an off-campus house party.
Bowling Green athletes Aliyah Gustafson and Rachel Walny also competed. Gustafson earned 15th place in the shot put with a throw of 54 feet, ½ inch, while Walny placed 18th in the 10,000 meters in 34:19.02.
On the first night of competition Wednesday, Ohio State and Michigan won national titles. OSU's Zack Bazile won the men's long jump, while Michigan's Ben Flanagan crossed the line first in the 10,000.
Guidelines: Please keep your comments smart and civil. Don't attack other readers personally, and keep your language decent. Comments that violate these standards, or our privacy statement or visitor's agreement, are subject to being removed and commenters are subject to being banned. To post comments, you must be a registered user on toledoblade.com. To find out more, please visit the FAQ.