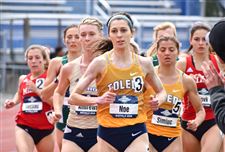 The University of Toledo's Janelle Noe, shown running at the Mid-American Conference championships, placed 11th in the 1,500-meter run at the NCAA championships in Oregon.
UNIVERSITY OF TOLEDO Enlarge
EUGENE, Ore. — University of Toledo senior Janelle Noe finished 11th in the 1,500 on Saturday in the NCAA national championships at the University of Oregon.
Noe finished in 4 minutes, 20.37 seconds, and was named second-team All-America after the race.
It was the best finish by a Rocket athlete at the nationals since April Williams was eighth in the triple jump in 2007.
"I can't feel anything but immense pride for what she's accomplished this season," coach Linh Nguyen said. "For what she's done this year, it's been a dream season really and I told her this morning that if we walk away from here and she finished last in the race today, we're going to walk away happy and smiling. There's no other way you can look at it, it was a huge success.
"Nothing's given and I think she, more than anyone, knows that nothing beyond today is guaranteed. I just want her to stay healthy. If she stays healthy and trains consistently then I think she can do special things next year."
Noe's 4:10.83 in Thursday's preliminary race qualified her for the USA Track and Field Championships on June 21 at Drake University in Des Moines. A decision whether or not she will participate will be made soon.
Guidelines: Please keep your comments smart and civil. Don't attack other readers personally, and keep your language decent. Comments that violate these standards, or our privacy statement or visitor's agreement, are subject to being removed and commenters are subject to being banned. To post comments, you must be a registered user on toledoblade.com. To find out more, please visit the FAQ.