Fresh off two consecutive years with the top recruiting class in the Mid-American Conference, the University of Toledo football team continues to make waves on the recruiting trail.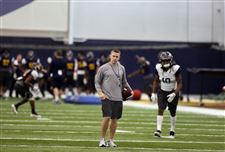 Toledo and coach Jason Candle currently have the 3rd ranked 2019 recruiting class in the Mid-American Conference.
Blade/Jetta Fraser Enlarge
The Rockets currently have 14 commits in the 2019 class according to 247Sports.com, and the class is ranked third in the conference — behind Miami (Ohio) and Western Michigan — and 58th overall in the nation. With 14 commits, Toledo is behind Miami in quantity as the RedHawks have 22 players committed in their class.
"I can't remember the last Toledo class that wasn't at the top or near the top of the MAC recruiting rankings," said Allen Trieu, a Midwest recruiting analyst for 247Sports. "They were No. 1 for a while, but that fluctuates based how many commits you have at this time. But I think by the time it plays out, Toledo always seems to be Nos. 1 or 2 in the conference, so I'd be surprised if they weren't there again.
"Miami and Western Michigan have really good classes right now. It's going to be a battle for those three for the MAC recruiting title this year."
The most noticeable thing when you look at Toledo's current class is five of the commitments are from the state of Florida — cornerback Quinyon Mitchell, linebacker Joe Smith, receiver Najeh Baker, and athletes Jacquez Stuart and Willie Gaines.
"The thing that stands out to me is the diversity they are getting in terms of where kids are from," Trieu said. "You have a lot of kids they have been able to get early from Florida. You expect them to be able to close out some guys closer to home earlier — the Ohio and Michigan kids. That's not super surprising. But to have five of the 14 kids from Florida just shows that the staff has done a really good job down there."
Aside from Florida, Toledo has three commits from Pennsylvania, a state that has been good to the Rockets in the past dating back to Bruce Gradkowski and continuing recently with such players as Trevon Mathis, Terry Swanson, and Corey Jones.
Cornerback Mike Coleman, defensive tackle Gaige Hill, and defensive end Jerome Henderson make up the new wave of Pennsylvania talent coming to Toledo.
"Pennsylvania has been good for them, not only in terms of just getting commits, but I think by and large those kids have done well at Toledo," Trieu said. "Before he was the head coach, Jason Candle was the area recruiter in Pennsylvania, so he has good ties there. Some other guys on staff have done a good job as well. I think that's going to continue to be a state that is very good to them as long as Jason Candle and his staff are there."
The one local commit, tight end Joey Carroll of St. Francis, could end up being one of the gems of this talented group.
"Joey was a kid that from the start they believed was going to be a Big Ten kid," Trieu said. "He had a lot of interest from Big Ten schools and that's a situation where it was good for Toledo to get him committed as early as they did. He's a kid that may have picked up more offers. But he liked Toledo and he liked the location and he has a chance to be a really, really good player for them. As it stands right now, I think he is one of the better players in the class."
Offensive lineman Michael Bergen from Avon, Ohio, spurned Purdue to commit to Toledo and is the lone offensive line commit so far in the class.
"Michael Bergen is maybe the best get of the class, because he got a Purdue offer and they were going after him really hard," Trieu said. "For Toledo to be able to beat out a Big Ten school is a heck of a get right there. He's 6-foot-5, 270 pounds and I think he is going to add weight. I think he'll be a multi-year starter for them on the offensive line."
Defensive end Adrian Woliver of Stow High School, a three-star prospect, is the top-ranked recruit in Toledo's class according to 247Sports. He is ranked as the 35th-best player in the state of Ohio.
"Woliver is a kid who has moved around some," Trieu said. "He's played middle linebacker on film. He comes down and plays inside on the defensive line. He can play outside on the defensive line. He's a good athlete and a really good football player who will probably end up being a rush end. He definitely gives them options because he's played different spots in high school."
Receiver Chris'Seon Stringer of Cincinnati Taft High School, cornerback Elija Griffin of Harper Woods High School in Michigan, and kicker Evan Davis of Crest High School in Shelby, N.C., round out the 2019 class.
Defensive tackle Michael Kimpiabi is a recent Toledo commit, but is not yet listed as one of the 14 members of Toledo's class on 247Sports. Kimpiabi, who was born in the Democratic Republic of the Congo, grew up in Switzerland, and last played at an academy in England, posted his pledge Tuesday on Twitter.
Contact Brian Buckey at: bbuckey@theblade.com, 419-724-6110, or on Twitter @BrianBuckey.
Guidelines: Please keep your comments smart and civil. Don't attack other readers personally, and keep your language decent. Comments that violate these standards, or our privacy statement or visitor's agreement, are subject to being removed and commenters are subject to being banned. To post comments, you must be a registered user on toledoblade.com. To find out more, please visit the FAQ.