ADRIAN — The attorney for a Rome Township woman accused of keeping hundreds of animals in poor conditions argued Thursday for a gag order and permission to view her animals.
The gag order was denied, but a judge did grant permission for the defense to inspect the animals.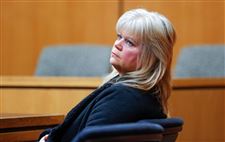 Sharon Kay Evans appears before Lenawee District Court Judge Jonathan Poer in Adrian, Michigan, on Thursday. Ms. Evans is being charged with felony cruelty to animals after over 200 dogs, 32 horses, and other animals were seized from her Shepherd Road property on January 3.
The Blade/Jetta Fraser
Enlarge | Buy This Image
Attorney Rodney Leon told a Lenawee County District Court judge that he took issue with recent media coverage of the case involving his client, Sharon Kay Evans, 53, of the 8800 block of Shepherd Road, who is charged with felony animal cruelty.
He argued the information and images released by the Lenawee County Sheriff's Office were given to and published by area media before he received the same.
"As far as I'm concerned, the only reason I'm angry here today is because there are so many people that have seen videos that I just got last night," he told the judge. "This is a court of law. This isn't a court of cameras and media. ... They're releasing all kinds of things to the media and not to me."
RELATED: Authorities seize more than 200 animals from Lenawee County puppy mill | Tally of animals grows from Lenawee County puppy mill
The sheriff's office's latest tally of animals removed from Ms. Evans' property Dec. 30 and Jan. 3 includes 212 dogs, 32 horses, five cats, two peacocks, and a donkey. Many of the female dogs and horses are pregnant, and some have since given birth.
In denying the motion for a gag order, Judge Jonathan Poer said there was no legal basis for the request. But he agreed to allow the defense to inspect the animals' conditions at several area rescues where they are being held and cared for.
R. Scott Baker, chief assistant prosecutor, said he would not argue against the inspection order because, "I have nothing to hide." He questioned, however, the relevancy of such an inspection after the animals have been receiving much needed care.
"I don't see how that could potentially or possibly be relevant because as the court is well aware, the question is not what condition the animals are in today, tomorrow, the next day, the next month, the next year," he said. "The question is what condition the animals were in when they were removed from the residence."
Ms. Evans was running a breeding operation, and had a kennel license from the county allowing her to have up to 50 dogs, according to county records. A complaint from someone who recently purchased a dog from Ms. Evans prompted the ongoing case.
Mr. Leon declined to comment after the hearing beyond saying Ms. Evans' business, which he called Shalom Farms, "has already been destroyed."
"She's out over $300,000 worth of animals," he said.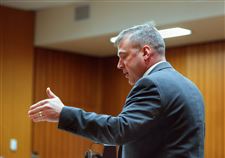 Lenawee County Chief Assistant Prosecutor R. Scott A. Baker speaks during a hearing for Sharon Kay Evans, who is accused of keeping hundreds of animals in poor conditions.
The Blade/Jetta Fraser
Enlarge | Buy This Image
Representatives from the Lenawee Humane Society attended the hearing. Executive Director Marcie Cornell said the organization is holding 101 dogs and five cats for the sheriff's department while the case continues.
"We've never seen anything like it," she said of the case after the hearing.
While the organization has handled numerous hoarding cases, although on a smaller scale, she noted Ms. Evans' case is entirely different as a puppy mill operation.
"This is a case more of animal neglect and abuse based on the conditions of the animals," she said. "And this was started out of making money, out of greed."
The organization cannot discuss the animals while the case is pending, but Mrs. Cornell said the animals were generally in terrible shape with painful matting, fleas and other parasites, very long toenails, sores, and other assorted maladies.
"When we can talk, we will sing from the rooftops," she said. "Because we're not going to let this happen anymore. It's just not acceptable."
When called by the sheriff's office for assistance, the humane society in turn called for help from several other area organizations who are in the process of forming an as-of-yet unnamed cooperative coalition. The group has had just one meeting — in November — and they all responded to the call, Mrs. Cornell said.
She hopes the courts quickly agree to the county's pending civil petition to release custody of the animals to the various rescues, which would allow them to move on to new homes and relieve the overwhelming burden of caring for them all. The work is also taking a heavy physical and emotional toll on the shelter's staff, leadership, and volunteers.
The animals "deserve the best life possible from here on out," Mrs. Cornell said. "We will do everything we can to make sure they get that."
Contact Alexandra Mester amester@theblade.com, 419-724-6066, or on Twitter @AlexMesterBlade.
Guidelines: Please keep your comments smart and civil. Don't attack other readers personally, and keep your language decent. Comments that violate these standards, or our privacy statement or visitor's agreement, are subject to being removed and commenters are subject to being banned. To post comments, you must be a registered user on toledoblade.com. To find out more, please visit the FAQ.