The alleged crimes may have been silent, conducted online in the open or in shadowy corners of the Internet, but they were massive.
Federal and local authorities say they broke up a major national fake ID ring based out of Toledo this week, with the exact scale not yet quantified. When asked how many fake IDs were allegedly made, officials only said, "a lot."
RELATED CONTENT: Third person arrested in fake ID case ■ 2 other arrests made ■ Experts say Bitcoin difficult — but not impossible — to track
Evidence seized in the case — gold and silver coins and bars, $7,000 in cash, and $4.7 million in online Bitcoin currency — suggest a lot of money was at stake, too.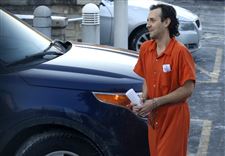 Mark A. Simon, 34, leaves after appearing at the Federal Courthouse in Toledo on Thursday, February 8, 2018.
The Blade/Kurt Steiss
Enlarge | Buy This Image
On Friday, the fake ID case's accused ring-leader, Toledoan Mark Alex Simon, 34, remained behind bars as an alleged sidekick, Sarah M. Alberts, 34, of Perrysburg appeared in Toledo Municipal Court. Two others have been charged in connection to the scheme.
Benjamin C. Stalets, 28, of the 2200 block of Parkwood Avenue, and Aaron D. Kuns, 33, of the 3700 block of Dewlawn Drive, are each charged with conspiracy, a second-degree felony. Kuns was arrested Friday, but Stalets has not been taken into custody, according to Lucas County jail records.
While an overview of the suspected criminal enterprise has been detailed by authorities — Mr. Simon as the supposed boss, and Ms. Alberts, Mr. Stalets, and Mr. Kuns allegedly working with him to produce "high quality" fake IDs — investigators are still looking into the case.
"The federal authorities are still going through a lot of computer equipment that we seized," Lucas County Assistant Prosecutor Michael Bahner said Friday following Ms. Albert's arraignment.
Mr. Simon has been charged with engaging in a pattern of corrupt activity, money laundering, identity fraud, manufacture, transfer, sale or distribution of false identification cards, telecommunications fraud, forgery, and possession of criminal tools.
Authorities believe Mr. Simon operated under the online pseudonym "TedDanzigSR" on the website Reddit.com. Posts on the website show Reddit users knew TedDanzigSR was someone they could go to when they needed fake IDs.
Mr. Simon's arrest caused significant reaction on the sub page of Reddit.com dedicated to fake IDs. In online posts, TedDanzigSR was both lauded as a "legend" in the illicit field, and criticized for getting caught. Reddit posters poured over his indictment, and worried about whether his arrest will lead to investigations into both customers and other vendors.
But while Mr. Simon had a degree of notoriety online for illicit activity, his public persona seems more withdrawn.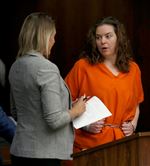 Sarah Alberts, a suspect in the bitcoin/fake identification case, is arraigned in Toledo Municipal Court in Toledo.
THE BLADE/LORI KING
Enlarge | Buy This Image
He lived in a small, one-story gray house on Stengel Avenue — a stone's throw away from Copland Park. He purchased the home in November, 2011, for $40,000, county records show.
It was there agents seized about $4.7 million in Bitcoin stored on a USB thumb drive, gold and silver coins and bars, $7,000 in cash, printing-related items, and IDs cards not issued in Mr. Simon's name, among other evidence, according to an affidavit filed in U.S. District Court on Tuesday.
Neighbors on the quiet dead-end street said Mr. Simon kept to himself.
Joie Hoeflinger said she met Mr. Simon once since she purchased her nearby home in September. He told her he was a physics tutor, and she said she believed he had a girlfriend with a son that visited regularly.
She said her maintenance man several months ago noticed a lot of foot traffic in and out of Mr. Simon's house, but she assumed the people were tutoring clients.
Justin Schwochow said he spoke casually with Mr. Simon only a few times.
"I'd see him out and about, outside mowing his lawn is the only time you'd really see him," Mr. Schwochow said. "He seemed normal, you know what I mean? Nothing seemed out of place."
He said Mr. Simon seemed like a private person and wasn't the outgoing type. He was surprised to learn authorities claim they seized a small fortune from Mr. Simon's residence.
"He didn't live extravagant," Mr. Schwochow said. "He never made any effort to fix the house."
TedDanzigSR, stated in an online post he "lives a lower income lifestyle and mostly wears 'wife beater' shirts and jeans and stays 'low key,'" according to court records. He wrote that only 10 percent of his manufactured identifications stay in Ohio, while the rest were shipped nationwide.
Mr. Simon appeared to operate a Facebook page using his middle name, Alex, where he occasionally shared stories on social and political topics. His profile photo is of Bernie Sanders' visit to Toledo in March, 2016, and indicates his hand as the one Mr. Sanders is shaking in the photo.
Physicist by training
While law enforcement say Mr. Simon was a top fake ID seller online, in real life he showed promise using his skills for legitimate means.
Mr. Simon received bachelor of science degrees in mathematics and physics from UT in 2007 and a doctorate in physics in 2011. He then worked as a postdoctoral research associate for the physics department for a year.
"I've wanted to be a physicist for as long as I can remember, even as a young child," he wrote in his 2011 dissertation.
Joie Hoeflinger, next-door neighbor, speaks about her neighbor, Mark Alex Simon, on Stengel Avenue in Toledo on Friday, February 9, 2018. She interacted with him a few times, but was surprised to hear about his arrest.
The Blade/Kurt Steiss
Enlarge | Buy This Image
Mr. Simon's dissertation suggests his research focused on how filament formation affects a type of electronic data collection called phase change memory. Researchers at companies such as IBM and Intel have been looking for ways to store more data per memory cell, increasing data speeds over the common random access memory type.
In his dissertation, Mr. Simon thanks an Intel Corporation employee for directing financial support to him from Intel, and for "his hospitality during my visit to Intel's headquarters."
Karen Bjorkman, dean of UT's College of Natural Sciences and Mathematics, was thanked by Mr. Simon in his dissertation, as she was previously department chairman, but she said she only interacted with him regarding his stipend.
"I really do not know Mark Simon much at all," she said.
Messages left with other current and former UT leaders affiliated with his research were not returned Friday.
Earlier incident
Academic credentials aside, Mr. Simon's arrest this week is not the first time he's been under police scrutiny.
On Aug. 30, 2014, the Toledo Police Department responded to an alarm at Fifth Third Bank, 3355 Secor Road. When police arrived, they saw Mr. Simon leaving the vicinity of the bank's ATM, according to records.
Officers questioned Mr. Simon, who became uncooperative, according to a police report. Six pre-paid debit cards in other people's names and more than $1,600 was found on him, police said. The items were taken into police custody, but he was not charged in that case.
Investigators later learned all prepaid cards were loaded from various Bitcoin websites, court records state.
A woman who answered the door at Mr. Simon's parents' home on South Avenue did not identify herself, but declined to comment.
A sister urged friends and family in a Facebook post Friday not to comment to the media. Another sister referred all future questions to Mr. Simon's attorney.
The Blade made multiple attempts to reach family and friends of others charged in the case. Several declined to comment or would not speak on the record.
Not acting alone
The charges filed against Mr. Simon stem from conduct that occurred between January, 2016, and February, 2018, relating to the production and transfer of Ohio's driver's licenses, according to Noah Hood, an assistant U.S. attorney.
While Mr. Simon was the alleged ringleader of the operation, law enforcement say he did not act alone.
Mr. Stalets, a local musician and bartender, and Mr. Kuns are each accused of helping another person plan the commission of money laundering, according to court records.
Mr. Simon's affidavit shows Mr. Stalets also played a role in the scheme, although it was not directly stated.
A photo posted on Mr. Stalets' social media account showed a prepaid credit card, which was similar to one retrieved from Mr. Simon during police's 2014 stop, according to records.
"We believe he was just a co-conspirator in the enterprise and facilitated some of the equipment used to process and make the IDs," Mr. Bahner said.
Ms. Alberts was arraigned Friday in Toledo Municipal Court on charges of engaging in a pattern of corrupt activity, conspiracy, money laundering, and manufacturing fake identification cards, according to affidavits filed in Toledo Municipal Court.
Judge Joseph Howe set her bond at $1 million. Mr. Simon's bond was previously set at $5 million.
Ms. Alberts reacted in disbelief at the amount, almost letting out a brief laugh during the court appearance.
She is a licensed social worker dating back to June, 2017. Her attorney, Trisha Breedlove, told the judge her client has been working full-time in the field since November.
If Ms. Alberts is convicted of a felony, she could lose her license, according to Bill Hegarty, deputy director of the State Counselor, Social Worker, and Marriage and Family Therapist Board.
Court records state Mr. Kuns agreed to be interviewed by investigators and told them Ms. Alberts approached him about a year-and-a-half-ago to produce the fake IDs.
He claimed Mr. Simon received orders for the fake IDs and would send the photos, personal information, and mailing labels to Mr. Kuns for processing. Mr. Kuns made the IDs and packaged them for delivery, according court records.
Ms. Alberts picked the packages up to be mailed. Investigators said the packages were sent through the United States Postal Service.
Mr. Kuns told investigators he was paid by Mr. Simon in Bitcoin, and Ms. Alberts paid him in gold coins or gold bars.
In a private message between TedDanzigSR and another Reddit user in February, 2016, TedDanzigSR said he only involved people he trusted to "not mess up both in terms of quality and taking the right precautions to not get themselves caught," according to Mr. Simon's affidavit.
Staff writers Alex Mester and Nolan Rosenkrans contributed to this report.
Contact Allison Reamer at areamer@theblade.com, 419-724-6506, or on Twitter @AllisonRBlade.
Guidelines: Please keep your comments smart and civil. Don't attack other readers personally, and keep your language decent. Comments that violate these standards, or our privacy statement or visitor's agreement, are subject to being removed and commenters are subject to being banned. To post comments, you must be a registered user on toledoblade.com. To find out more, please visit the FAQ.