The former executive director of Sylvania Area Family Services was indicted Tuesday by a Lucas County grand jury on a fifth-degree felony charge of theft.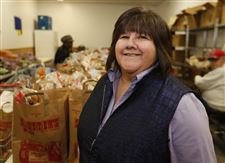 Anita Sanchez-Serda in 2014.
The Blade
Enlarge | Buy This Image
Anita Sanchez-Serda, 55, of Perrysburg allegedly stole more than $1,600 worth of gift cards from the agency where she was employed and used them for personal purchases.
Ms. Sanchez-Serda, who was charged with the offense in February by Sylvania Township police, was fired after being confronted about the missing gift cards and admitting she had taken them because she was having personal financial difficulties.
Guidelines: Please keep your comments smart and civil. Don't attack other readers personally, and keep your language decent. Comments that violate these standards, or our privacy statement or visitor's agreement, are subject to being removed and commenters are subject to being banned. To post comments, you must be a registered user on toledoblade.com. To find out more, please visit the FAQ.