Mark Alan Lowery told a jury he didn't kill anyone. The jury apparently did not believe him.
After 3½ hours of deliberations Wednesday, a jury of nine women and three men found Lowery, 56, of the 2500 block of Consaul Street guilty of two counts of aggravated murder, murder, and aggravated robbery, and one count each of aggravated robbery, aggravated burglary, and aggravated arson.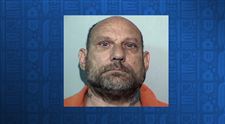 Lowery
Lowery was convicted of killing Alfred Delong, 77, on July 10, 2015, and Taylor Meek, 22, on Nov. 9, 2015. Both of the victims lived near Lowery, who testified that he had at times done work for Delong and had done maintenance work at Mr. Meek's apartment on the same day he was killed and his apartment set on fire.
Lucas County Common Pleas Judge Gary Cook scheduled a July 16 sentencing for Lowery, who faces a maximum term of life in prison without the opportunity for parole.
Mark Herr, an assistant county prosecutor, told the jury in his closing argument that Lowery had both opportunity and motive for killing the men and taking their property. He was a drug addict who needed to feed his daily habit, Mr. Herr said.
He also stressed that both victims were killed in the dark of night insimilar fashions: beaten and then stabbed. Some of their belongings were found in a nearby wooded area — the same place police recovered some of Lowery's clothing. A pair of men's gloves that contained DNA of both Mr. Delong and Lowery were found near Mr. DeLong's vehicle.
"Beaten. Stabbed. Left for dead. Property taken," Mr. Herr said. "That's not normal. That's not sensible. In fact, it's just the opposite — it's totally senseless."
Defense attorney James Popil maintained no eyewitnesses or physical evidence tied Lowery to the two homicides.
"My client may be a thief. He may be a drug addict, but he is not a murderer. ... I suggest to you this case is riddled with reasonable doubt," Mr. Popil said.
Contact Jennifer Feehan at jfeehan@theblade.com or 419-213-2134.
Guidelines: Please keep your comments smart and civil. Don't attack other readers personally, and keep your language decent. Comments that violate these standards, or our privacy statement or visitor's agreement, are subject to being removed and commenters are subject to being banned. To post comments, you must be a registered user on toledoblade.com. To find out more, please visit the FAQ.