Dagmar Varela's enthusiasm for the foods of Toledo, Spain, is so contagious that she makes you want to hop on a plane and fly 4,000 miles for a culinary excursion to our sister city of the same name.
Mrs. Varela is a board member of Toledo Sister Cities International and president of the Association of Two Toledos, an organization that dates back nearly 100 years to the 1920s, before a sister city relationship was formally forged between the cities in 1931.
The Spanish Toledo is located near the center of the country and is the capital of the "autonomous community," or state, of Castilla-La Mancha, she said.
In 2016, it was named Spain's capital of gastronomy, an honor designed to showcase the city's esteemed heritage and traditions. Some of Toledo's most cherished food items, which are subject to the European Union's Designation of Origin to ensure authenticity and quality, include Manchego cheese and Montes de Toledo olive oil. Saffron from Castilla-La Mancha is prized, and the region is a top supplier of the spice.
Almonds are also a major crop, said Mrs. Varela. Thus, Mazapán de Toledo — more familiarly called marzipan, rather than by its Castilian name — is one of the most beloved confections, considered the very finest of the city's sweet treats. Although Sicilians and Arabs also take credit, Spain proudly claims that it was created by the nuns of the Convent of San Clemente in 1212, with the sugar-almond paste helping to stave off a famine after a battle against the occupying Moors left the area without bread.
Regional specialties in the Spanish Toledo include Carcamusa, a pork stew with chorizo and Serrano ham; Sopa Castellano, a garlicky ham broth flavored with paprika and enriched with bread and poached eggs; and Venado con Setas y Peras, which is venison cooked with wild mushrooms and pears. Castilla-La Mancha is famous for its game, such that even "the typical paella from La Mancha," Mrs. Varela said of the legendary rice dish, "is made with rabbit" rather than with the more recognized shellfish of the coastal Valencian version.
Pisto Manchego, which Mrs. Varela called "the Spanish version of ratatouille" — rich and flavorful with tomatoes, eggplant, peppers, and other summery vegetables — is great when served hot and can be "a meal when adding a fried egg." It is also offered at room temperature as a side dish or a tapa.
Another of her favorites is Tortilla Española, the original version of which was from Castilla-La Mancha, according to Mrs. Varela. This dish is often incorrectly likened to an open-face potato-and-onion omelet; and Mrs. Varela adamantly said "there are zillions of versions," each varying slightly by family preference, "but it is NOT a frittata." (Spanish omelets are cooked on the stove top and flipped to set the undersides, while Italian frittate are baked in the oven to finish cooking.)
But above and beyond all the other dishes that the region is famous for, the "most well known and loved winter stew," said Mrs. Varela, is Perdices a la Toledana, or Partridge Toledo Style simmered in an aromatic wine-based broth. "This dish is lauded in Cervantes' novel Don Quijote de La Mancha ... where it is savored by dukes and barons and is the favorite of Don Quijote and his side-kick Sancho."
She noted that "[there] is a saying in Spanish for the ending of a tale": Y vivieron felices y comieron perdices, which is akin to "and they lived happily ever after." Translated literally, it means, "and they lived happily and ate partridges," she said.
"I think it is so hilarious to imagine Cinderella and her prince chowing down on partridges for the rest of their lives," Mrs. Varela said.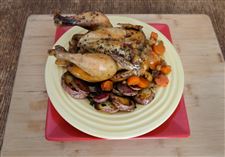 This Perdices a la Toledana (Partridge Toledo Style), photographed on January 4 in Toledo, uses Cornish game hens instead of pheasants.
The Blade/Jetta Fraser
Enlarge | Buy This Image
Perdices a la Toledana (Partridge Toledo Style)
Dagmar Varela, president of the Association of Two Toledos, says that this recipe can "be done in a pressure cooker for about 35 minutes," if time is of the essence. It should be served with small oven-roasted potatoes or with sliced potatoes that have been fried in olive oil before being lightly salted and sprinkled with parsley.
2 large onions
3 carrots
Olive oil
10 cloves of garlic, peeled
Salt and pepper
4 partridges (may substitute quail or Cornish game hens)
1 cup of white wine (see note)
2 bay leaves
8 peppercorns
2 sprigs of fresh thyme (or substitute dried)
1 teaspoon of sherry vinegar
1 glass of water or chicken broth
A couple of saffron strands, optional
Cut onions and carrots in slices and sauté in olive oil until onions are wilted. Then add the whole, peeled garlic and sweat.
Salt and pepper the partridge inside and out; tie string around legs and wings to breast. Brown on all sides in hot olive oil, in a separate pan.
Add the partridges to the pot with the vegetables. Add wine, bay leaves, peppercorns, thyme, sherry vinegar, and then water (or broth) to almost cover the meat. Add saffron, if using.
Cover the pot and simmer for approximately 1½ to 2 hours, until partridges are soft. Check occasionally to see if more water or broth needs to be added, since it should not become dry.
Serve hot. May be served in the pot or eathernware cazuela in which they were cooked.
Note: Instead of white wine, Mrs. Varela suggests Oloroso or Amontillado; red wine may also be used.
Yield: 4 to 8 servings, depending on size of the birds
Source: Adapted from Dagmar Varela
Contact Mary Bilyeu at 419-724-6155 or mbilyeu@theblade.com, and follow her at facebook.com/thebladefoodpage.
Guidelines: Please keep your comments smart and civil. Don't attack other readers personally, and keep your language decent. Comments that violate these standards, or our privacy statement or visitor's agreement, are subject to being removed and commenters are subject to being banned. To post comments, you must be a registered user on toledoblade.com. To find out more, please visit the FAQ.