In December, Missi Edwards found herself in the driveway of her Findlay home, rocking back and forth and sobbing uncontrollably in the bed of her pickup after an argument with her husband about Christmas travel plans. It was about 30 degrees, and she was wearing a sweatshirt and jeans.
"I couldn't breathe. I just had to get out of there," she says.
She was having an anxiety attack, something the 39-year-old woman has struggled with since she was a 20-year-old working for her father. In that case, she was running late on an errand and had an overwhelming sense of dread and panic as she waited in line for blueprints at the planning commission office. She felt a wave of nausea. Her heart raced. She couldn't stand still. Her fidgeting resulted in her snapping the heel off her shoe.
WATCH: Victoria Kelly speaks about how to deal with panic attacks
According to the National Alliance on Mental Illness, 40 million adults, or 18 percent, have an anxiety disorder. It is the most common mental health disorder in the United States. About 2 percent to 5 percent have panic disorder, a condition that results in repeated attacks and a paralyzing fear of the next attack.
"A panic attack comes out of nowhere. People can feel like they are having a heart attack, that their heart is beating out of their chest, and so they get short of breath, start to feel sweaty, dizzy, faint, nauseated, or a sense of doom," says Tiffany Pottkotter, a psychiatric nurse practitioner with ProMedica Physicians Behavioral Health. "At that point, fight-or-flight kicks in, and people get a burst of energy."
Ms. Pottkotter knows those feelings. Her own experience with panic attacks and anxiety led her into a career where she could help others.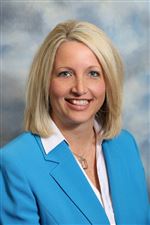 Pottkotter
"I was in college, 20 years old, and I went to the ER thinking I was having a heart attack. I found out I was having a panic attack. They said, 'You are 20 years old. You are not having a heart attack,' " Ms. Pottkotter recalls. "I had never heard of a panic attack. I went home and read all about it. It was fascinating. I realized that I had had anxiety all my life, but I didn't realize what it was."
In March, Kevin Love, a professional basketball player with the Cleveland Cavaliers, wrote an essay titled "Everyone Is Going Through Something" for The Players' Tribune, a media platform that provides content from professional athletes. Mr. Love detailed a panic attack he experienced during a game on Nov. 5, a little more than two months after he turned 29: "I got to the bench and felt my heart racing faster than usual. Then I was having trouble catching my breath. It's hard to describe, but everything was spinning, like my brain was trying to climb out of my head."
The point of his essay was to help lessen the stigma or shame often attached to mental illnesses.
"Call it a stigma or call it fear or insecurity — you can call it a number of things — but what I was worried about wasn't just my own inner struggles but how difficult it was to talk about them. I didn't want people to perceive me as somehow less reliable as a teammate," he said.
Several other high-profile people, including entertainers Lena Dunham, Sarah Silverman, Amanda Seyfried, Zayn Malik, and Adele, have spoken out about their own battles with excessive worrying and anxiety attacks.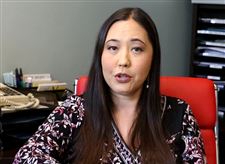 Dr. Victoria Kelly speaks about how to deal with panic attacks.
The Blade/Kurt Steiss
Enlarge | Buy This Image
"When famous people come forward with their stories, it normalizes the experience and allows for more education and decreases the stigma. More people are seeking mental health treatment now than ever," says Dr. Victoria Kelly, assistant professor of psychiatry and director of the general psychiatry residency program at the University of Toledo Medical Center, formerly the Medical College of Ohio.
There is a strong genetic component to those with anxiety disorders. If your mother or father has severe anxiety, your odds are greater than average that you will have to deal with the same issue. But for others, issues can be completely unexpected, arising during wedding planning, over the holidays, after the birth of a child, or when living away from home for the first time.
When Megan Russell was a freshman at Mount Vernon Nazarene University north of Columbus, the bewildering terror consumed her when her roommate was at volleyball practice.
"I started pacing around this small dorm room. I was feeling alone, my palms got super sweaty. I was shaking really bad, and I remember feeling like I couldn't breathe," Ms. Russell says. "It was like I was in a super workout mode — the sweat, accelerated heartbeat, but I was just walking. It was weird."
People experience anxiety attacks in different ways, but many of them experience a racing heart, sweaty palms, restlessness, and a fear of impending doom. Many sufferers describe an attack as a feeling that they will go crazy or lose control. Adrenaline is being pumped into the body. Dr. Kelly says the adrenaline "makes our body think we need to gear up and get ready for a fight or buckle down and get ready for a famine." The sensations cause a person to take shallow breaths, meaning the brain is not receiving the required oxygen, causing scrambled thoughts and intensifying the symptoms.
Dr. Kelly says most attacks peak within 10 minutes. Think of the experience as a building wave (fear, racing heart, sweaty palms) that crests, then crashes. With the crash often comes depression, fatigue, upset stomach, a recurring fear that the attack will return, and simply feeling emotionally and physically wiped out.
If it is your first attack, Dr. Kelly says the most important thing is to have a physical evaluation to rule out a heart attack, a pulmonary embolism, a heart abnormality, or even thyroid issues.
But during an anxiety attack, the simplest step is to control your breathing with deep breaths. Dr. Kelly suggests breathing in through the nose for a count of three and out through the mouth for a count of four. If you are driving, try to get to a safe location. Ms. Pottkotter says to focus on one object — for example, the steering wheel — and control your breathing. Once your breathing is under control, your heart will slow, and the adrenaline surge will decrease.
Another tactic is to simply experience the sensations, knowing that they will soon pass. If someone is with you, communicate what you need from them (a glass of water, reassuring words, a back rub) and have them take you out of the situation if possible (into another room or outside for a walk) or have them do deep breathing with you.
Family members and close friends play key roles for those experiencing anxiety. It is often valuable for them to attend therapy sessions, Ms. Pottkotter says — to know how to respond during an attack but also to allow the patient to explain his or her experience. Unfortunately, well-meaning family and friends can also make the situation worse during an attack.
"They should just ask: 'How can I help?' If you say statements like 'Don't worry about it' or 'Why are you having a panic attack?' that is unhelpful and invalidates their experience and can potentially increase the anxiety level," Dr. Kelly says. "They can't fix it, so they shouldn't try. But they can be a friend or support in that moment."
Anxiety attacks often do not need to be treated with medication unless the symptoms advance to panic disorder, which often interferes with a patient's life because he or she becomes consumed by fear of the next attack, causing them to avoid situations that could trigger an attack (for example, a crowded theater, a sporting event, an elevator, or driving a car). In some cases, a patient may refuse to leave his home.
In minor or severe cases of anxiety, it makes sense to talk to a therapist. Ms. Pottkotter says she does exposure therapy with patients, gradually exposing them to a situation that is a "trigger." It might start with a picture of a theater, then driving by a theater, then stepping inside a theater. What should not be done is avoiding a situation all together.
Barb Roose, a motivational speaker, author, and occasional guest speaker at CedarCreek Church in Perrysburg, has battled excessive worrying throughout her life, compounded by parenthood.
"My story began in high school. I taught myself to worry. I'm a Type-A personality, a first born, and I spent my high-school career thinking about worst-case scenarios. I would think of everything that could go wrong and try to fix it," Ms. Roose says. "There is a stat out there that 85 percent of what people worry about never happens. I was driving myself crazy and making plans for things that would likely never happen."
Her self-discovery began with a message on fear and worrying she was asked to deliver at CedarCreek. The team gave her the option of petting a tarantula or jumping out of a plane. She chose to jump out of plane, which was terrifying but also gave her confidence that she could more deeply explore the root of her excessive worrying. Subsequent research and interviews led to her writing the Biblically-focused Winning the Worry Battle: Life Lessons from the Book of Joshua. It was released about a month ago.
Dr. Kelly, Ms. Pottkotter, and Ms. Roose all agree that society has been more willing — but still not willing enough — to talk about mental health disorders, taking away some of the stigma. The difference has been noticeable to Ms. Roose, who was a pharmaceutical rep in the 1990s. Ironically, she sold medication to treat anxiety.
"One of the things that happened to me when I had my badge on [in doctors' offices] was that people would whisper their stories to me. People would whisper because they were embarrassed," Ms. Roose says. "All these years later, I hear people talking about it more. Are there more things to be worried about today? Maybe. But maybe we are at the point where people are willing to give voice to the issue."
Contact Brian Dugger at bdugger@theblade.com or on Twitter @DuggerBlade.
Guidelines: Please keep your comments smart and civil. Don't attack other readers personally, and keep your language decent. Comments that violate these standards, or our privacy statement or visitor's agreement, are subject to being removed and commenters are subject to being banned. To post comments, you must be a registered user on toledoblade.com. To find out more, please visit the FAQ.