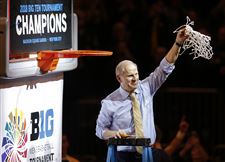 Michigan head coach John Beilein holds up the net after Michigan beat Purdue 75-66 to win the Big Ten Tournament.
ASSOCIATED PRESS Enlarge
With due respect to Pope Gregory XIII, it is time for an amendment to his Gregorian Calendar. It should now read: January, February, Beilein.
Does March belong to John Beilein or what?
The Michigan basketball coach will enter the big dance fresh off his latest March masterpiece after the Wolverines flicked aside No. 2 Michigan State and eighth-ranked Purdue to win the Big Ten tourney in the Big Apple.
The best measure of a coach is how his teams evolve from November to March, and nobody's come further than those coaxed just so into postseason form by Beilein. We saw it last year, when Michigan won four games in four days at the Big Ten tournament, then waltzed into the Sweet 16. And we're seeing it again this year, the unheralded Wolverines — with Lima native Zavier Simpson leading a championship-caliber defense — now winners of nine straight.
It's old hat by now, the midseason clouds giving way to their finest hour. Expect Michigan to be seeded fourth in the NCAA tournament, a side effect of a selection committee that places too much value on who you were in January versus who you are now. That means the Wolverines (28-7) would be behind both Michigan State — which it smacked in both meetings this year — and Purdue.
Yet make no mistake: The team playing the best basketball in the Big Ten is Michigan. And it's not especially close, its D — the best in Beilein's 11 years in Ann Arbor — making the blue a legit Final Four contender.
Anyone really surprised the Wolverines proved they can make it New York? As usual this time of year, they can make it anywhere.
Contact David Briggs at dbriggs@theblade.com, 419-724-6084, or on Twitter @DBriggsBlade.
Guidelines: Please keep your comments smart and civil. Don't attack other readers personally, and keep your language decent. Comments that violate these standards, or our privacy statement or visitor's agreement, are subject to being removed and commenters are subject to being banned. To post comments, you must be a registered user on toledoblade.com. To find out more, please visit the FAQ.