Time to turn ahead the clocks, dial back our sanity, and have Dilbert's scheming co-worker blanch at our lack of workplace production.
March Madness is upon us.
Like with electricity or pet rocks, sometimes I wonder what life would be like without it. In a world absent the NCAA basketball tournament, an office pool simply would be a burst pipe in the conference room, the big dance would the conga line on a dinner cruise, and we'd have to find another use for the $10.4 billion gambled on the three weeks of games.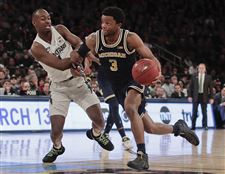 Michigan guard Zavier Simpson drives down the floor during one of the Wolverines two double-digit wins over Michigan State this season. The NCAA Tournament committee placed MSU in Detroit to open the tournament and send Michigan to Wichita.
ASSOCIATED PRESS Enlarge
But then what fun are college funds and bathroom remodels?
Fortunately, the tournament is real, spectacular, and here. Before we take a sledgehammer to our brackets, here's our quick thoughts from Selection Sunday:
■ Let's start with a blind taste test, including the fancy-pants new data point that breaks down wins into quadrants.
Team A
RPI: 11th
Record vs. Top 50: 6-4
Quadrant 1 wins: Six
Team B
RPI: 15th
Record vs. Top 50: 2-4
Quadrant 1 wins: Three
Team A is Michigan. Team B is Michigan State. Both were No. 3 seeds. You've probably heard which one got the coveted down-the-road berth in Detroit and which one got shipped to Wichita, Kan.
If the Wolverines proved they can indeed make it anywhere after winning the Big Ten tournament title in New York, their exile to Cowtown — as Wichita is historically known — still should sting.
Winners of nine straight, Michigan not only is a team nobody wants to play but it beat the Spartans by double digits in each of their meetings.
This isn't a knock on Michigan State, which won the conference regular-season title and has lottery picks Miles Bridges and Jaren Jackson leading the way. I'd argue both rivals deserve to be in Detroit. But if the committee had to pick one of them — and paid any attention to its alleged leading metrics — the Wolverines are the clear winner.
Instead, not surprisingly, it threw the Motor City the bone of the bigger blue blood.
The early guess here is Michigan enjoys the final word.
No doubt the West Region will be a hard-won journey, with Xavier and North Carolina — which beat Michigan in November — as the top two seeds. I just think Michigan is playing as well as anyone. With Lima Senior grad Zavier Simpson marshaling a suddenly infernal defense and the Wolverines having one of the tourney's biggest matchup nightmares — Moritz Wagner, the 6-foot-11 forward who shoots 42 percent from beyond the arc — the Cowtown Bunch are our Final Four pick.
■ Don't look now, but waiting on the other side of the West bracket is fifth-seeded Ohio State.
Might we get an Elite Eight rematch of the rivals' regional final showdown in 1992?
Probably not, but it sure would be fun.
As it is, I'm still not sure if Ohio State is more of a feel-good story or a real tourney threat? My sense is the former. Many will pick the Buckeyes to lose their opener to 12th-seeded South Dakota State, if only because history tells us the popular 5/12 upset pick has a 36 percent chance of making you look smart. Me, I have them losing to fourth-seeded Gonzaga in the second round. The Buckeyes are a different team from when the Bulldogs hammered them by 27 points in November, but it's a bad matchup just the same.
■ Are those footprints on Ohio athletic director Jim Schaus' back?
It's old news the selection process is rigged against the mid-major programs. But a committee that included Schaus walked over the little guys like never before this season, opting to include a record five teams with losing league records — Alabama, Texas, Oklahoma, Arizona State, and Syracuse — at the expense of more deserving schools from smaller conferences.
Most notably, it included an Arizona State team that lost 11 of its final 19 games against a St. Mary's team with 28 wins — including one vs. Gonzaga — and a significantly higher RPI.
What a joke, but again, nothing new.
"I don't see it changing because that's what the BCS schools want," Toledo coach Tod Kowalczyk told me recently. "A great example is if Illinois State at 17-1 in the Missouri Valley Conference can't get an at-large bid last year, I don't know what else you can do."
Contact David Briggs at: dbriggs@theblade.com, 419-724-6084, or on Twitter @DBriggsBlade.
Guidelines: Please keep your comments smart and civil. Don't attack other readers personally, and keep your language decent. Comments that violate these standards, or our privacy statement or visitor's agreement, are subject to being removed and commenters are subject to being banned. To post comments, you must be a registered user on toledoblade.com. To find out more, please visit the FAQ.