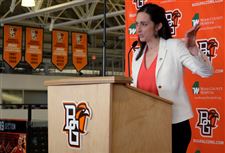 BGSU women's basketball coach Robyn Fralick speaks during a press conference Wednesday.
BLADE/LORI KING Enlarge
BOWLING GREEN — The best bosses are up front with the expectations for their employees, so Bowling Green athletic director Bob Moosbrugger cut right to it with Robyn Fralick earlier this week.
Before the Falcons hired the best women's basketball coach $231,000 per year can buy — the master planner behind one of the most prolific runs in college sports history — her agent wondered, "Anything else we need to know?"
"Just tell her to bring that one-loss-a-year plan," Moosbrugger said.
The agent, Brian Stanchak, passed along the message. The coach laughed.
"Well, that costs millions of dollars," she said.
"OK, I'll allow three or four losses per year," Moosbrugger replied.
He was kidding. Kind of.
WATCH: Robyn Fralick excited to helm BG women's program
For Bowling Green, the introduction of Fralick on Wednesday allowed a proud but idle program to dream big again.
For me, I must confess I don't think hiring a 36-year-old coach from Division II Ashland is a good idea.
It's a great idea.
This was the Hail Mary the Falcons needed, a swing-for-the-fences gamble with little downside and superstar upside. You want to bring back the fans disillusioned by one spiritless season after another? You hire a run-and-fun, full-court-pressing, 100-points-per-game-averaging coach who went 104-3 in her three seasons in the lead chair.
That's not a misprint. Nor is it just a few good years.
That's a few of the greatest years anyone has ever seen.
Fralick's .972 winning percentage is the highest of any coach in any sport at any level in NCAA history with at least 100 career games.
Any sport at any level in NCAA history.
Most notably, the name-taking tenure included 73 straight victories before an upset loss to Central Missouri in last week's D-II title game. That's the fifth-longest winning streak in NCAA hoops history, behind a couple teams you might have heard of — the Connecticut women from 2014-17 (111 straight) and 2008-11 (90), and the UCLA men from 1971-74 (88) — along with the Division III Washington University (St. Louis) women from 1998-01 (81).
The big question, of course, is whether her success will transcend Division II.
But a good coach is a good coach. If some leaps are plain goofy — say, Gerry Faust jumping from high school to Notre Dame — Fralick's promotion to a midmajor Division I school is not one of them.
Need we remind the last time Bowling Green hired a women's basketball coach with an eye-popping record at a lower level? That was Fran Voll, who went 208-17 at Delphos St. John's High School before landing the Falcons job in 1984. He led BG to four NCAA tournaments in seven years, kick-starting the very tradition that made the job attractive to Fralick.
Those who know Fralick have no doubt she will win big, even if a cupboard stripped to the studs after four straight losing seasons means patience should be in order.
That includes former Toledo coach Mark Ehlen, who hired her as an assistant in 2007. After he was fired within the year, he recommended Fralick to his friend, longtime Ashland coach Sue Ramsey.
"He said, 'She's just special. She's going to do wonderful things,'" Ramsey told me. "And he was right."
In seven years as an Ashland assistant, she proved a single-minded recruiter and, as Ramsey saw it, a "brilliant basketball mind." Fralick succeeded her retired mentor in 2015 and made a championship program even better. To be perfectly blunt, her Division II team would have beaten Bowling Green this season. (Ashland won the teams' last exhibition game in 2015.)
"You shouldn't question whether her style of play will transfer to the D-I level," Ehlen said. "Her Ashland teams would have been competitive in the MAC, and I know how strong the league is."
The only suspense is who was going to land her services.
For Bowling Green, two big pieces needed to align.
Fralick first had to be comfortable replacing a close friend and one of her college coaches. Yes, it was Jennifer Roos, the freshly deposed Bowling Green coach, who as a Davidson assistant recruited Fralick to the North Carolina school. Fralick sought her blessing.
"Jennifer Roos is a good friend to me," Fralick said. "She's been incredibly, incredibly supportive my whole coaching career and in this situation as well."
The second, bigger piece was Bowling Green stepping up its money game. The usual blueprint for the cash-strapped school would have been letting Roos coach out the last season of her deal, no matter if hope left the building years ago. But Moosbrugger and select donors recognized the importance of the women's program to the school and community and, to their credit, took a big swing and connected.
"If she can go 104-3," Moosbrugger said, smiling, "we'll get a return on that investment, for sure."
Contact David Briggs at dbriggs@theblade.com, 419-724-6084, or on Twitter @DBriggsBlade.
Guidelines: Please keep your comments smart and civil. Don't attack other readers personally, and keep your language decent. Comments that violate these standards, or our privacy statement or visitor's agreement, are subject to being removed and commenters are subject to being banned. To post comments, you must be a registered user on toledoblade.com. To find out more, please visit the FAQ.