Brett Herr is ready for some football.
On Monday night, sure, but Thursday night too. And Friday, Saturday, and Sunday, which leaves only Tuesday and Wednesday for other business, such as sleeping and combing the waiver wire for a backup fantasy tight end.
"I love football!" he said.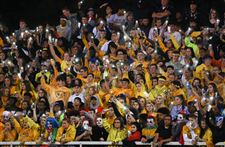 Whitmer fans cheer during a football game last season against Central Catholic. High school football is a community event throughout northwest Ohio, but the dangers of the sport are often in the news.
The Blade
Enlarge | Buy This Image
Yet lately, Herr has become like many Americans. He wonders how much it loves us back.
Just the other day came word Tyler Hilinski, the Washington State quarterback who killed himself in January, had the early stages of chronic traumatic encephalopathy, or CTE, the degenerative brain disease brought on by repeated blows to the head — a revelation that was shocking only in it did not surprise.
Herr is deeply conflicted and a health teacher at Jefferson Junior High in the Washington Local school district, which is why I reached out. We've heard from all the usual suspects in the national debate on the future of football: players, parents, coaches, doctors. I wanted to hear too, from an educator on the frontline in a gridiron-mad community.
Is it his role to scare straight the Friday night stars of tomorrow?
"As a teacher whose purpose in my career is preventing diseases, I am torn watching my old students get full rides to college playing a sport that is known to [damage] them in their third act of life," Herr said.
Understand, he is not a doomsday prophet. It's just his class is specifically about risk reduction. He might talk about seat belts one week, the dangers of smoking the next. When the lesson plan turns to sports, well, you can imagine what inquiring young minds want to know.
"Is it true that football makes the brain shrink?" one girl asked. "Is it true you shouldn't play football?" the boys quiz him.
For many Ohioans, the answer increasingly is no. The OHSAA counted 42,490 football players last year — down 23 percent from a high of 55,392 in 2009.
For Herr and many more, including this corner, it is complicated. Yes, he tells his students, the research tells us our gladiatorial pastime can inflict devastating brain injuries. "I will answer as honestly as I can," he said. But the truth is, there are no clear answers. Every player and brain is different, as is the game itself, which has become more focused than ever on player safety.
Should I play football?
"How do you have that conversation?" said the 35-year-old Herr, who has a 3-year-old daughter. "It's like talking about lung cancer to a smoker. As a health teacher, you want your students to be healthy and live lives that don't cause disease, and we love football. It's deeper than just being a sport in this area. I don't want to stir up controversy in a junior high health class."
To that end, when kids ask, he has no answer to the question. "I'm not comfortable answering," Herr said. "Just because of our community. I'm here to represent everybody. There is a difference between educating and my own beliefs. Same with religion."
Which, of course, is one and the same with fall weekends.
Call us hypocrites, but when did you say training camp opens?
"Now, I'm getting excited for football again," he said.
Contact David Briggs at: dbriggs@theblade.com, 419-724-6084, or on Twitter @DBriggsBlade.
Guidelines: Please keep your comments smart and civil. Don't attack other readers personally, and keep your language decent. Comments that violate these standards, or our privacy statement or visitor's agreement, are subject to being removed and commenters are subject to being banned. To post comments, you must be a registered user on toledoblade.com. To find out more, please visit the FAQ.