Roseann Swiergosz, a former teacher, guidance counselor and longtime marketing director of Valentine Theatre, died Oct. 5 at her Toledo home. She was 67.
She had breast cancer, said Brian McDonagh, her companion of 25 years.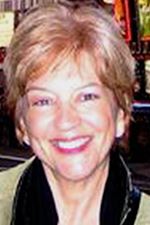 Swiergosz
Ms. Swiergosz was the marketing director at the Valentine from 1999 to 2009. She then was the executive director of the Bologna Performing Arts Center at Delta State University in Cleveland, Miss. for several years and most recently the executive director of the Grand Opera House at Mercer University in Macon, Ga., retiring in 2016, according to her niece, Elyse Simko.
"She was a dedicated professional who loved theater and was dedicated to re-establishing Valentine Theatre to its once prominent position as a cultural center of Toledo," said Matt Lentz, the theater's director of marketing and public relations.
Before working at the Valentine, Ms. Swiergosz taught government at Clay High School and was a guidance counselor at St. John's Jesuit High School.
"She was a very nice, a very sweet person," Mr. McDonagh said. "She was optimistic, upbeat, and benevolent. She always had a kind word to say."
Born Sept. 28, 1950 to Joseph and Rose Swiergosz in Toledo, Ms. Swiergosz graduated from Notre Dame Academy around 1968. She was proud of her Polish heritage, Mr. Mc- Donagh said.
After high school, she continued her education at the University of Toledo, from which she received her bachelor's and master's degrees. She later studied film-making at University of California, Los Angeles.
In her free time, she enjoyed classic films, musical theater, and historical literature.
She was preceded in death by her brother, Joseph Swiergosz, Jr.
Besides Mr. McDonagh, surviving are her sisters, Marcia Guinan and Marilyn Osborne.
A memorial service will be at 5:30 p.m. Oct. 21 at Stone Oak Country Club, 100 Stone Oak Blvd., Holland. Arrangements are by Caring Cremation Services, 1511 West Central Ave., Toledo.
The family suggests tributes to Hospice of Northwest Ohio.
Contact Mike Sigov at sigov@theblade.com, 419-724-6089, or on Twitter @mikesigovblade.
Guidelines: Please keep your comments smart and civil. Don't attack other readers personally, and keep your language decent. Comments that violate these standards, or our privacy statement or visitor's agreement, are subject to being removed and commenters are subject to being banned. To post comments, you must be a registered user on toledoblade.com. To find out more, please visit the FAQ.