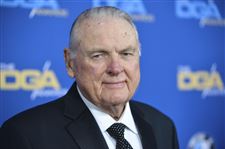 Keith Jackson, the down-home voice of college football during more than five decades as a broadcaster, died on Friday, Jan. 12. He was 89.
ASSOCIATED PRESS Enlarge
Keith Jackson, the sportscaster whose rich voice and distinctive phrasing endeared him to generations of college football fans, has died, ESPN said in a news release Saturday. He was 89.
The play-by-play man narrated a range of sports for ABC for more than 40 years, starting in 1966. But college football was his forte, stamping the game with enduring expressions and nicknames.
The Rose Bowl was not just the oldest bowl game to Mr. Jackson, but "the granddaddy of them all." The University of Michigan's stadium, he's credited with saying, is "The Big House."
He also was widely known for the catchphrase, "Whoa, Nellie!" Though to hear him tell it, he shouldn't have been.
"I never did use it that much — just a couple times when Grease (Bob Griese) and I were (broadcasting) together," Mr. Jackson told LostLettermen.com's Jim Weber in 2011. "I haven't used it — I never did use it much — and I haven't used it in a long time. It's amazing how it's hung on."
And stick it did. Mr. Jackson, a Georgia native, told Fox Sports in 2013 that he got the phrase from his great-grandfather, a farmer.
We are saddened to hear of Keith Jackson's passing.

An absolute icon, he was the Voice of the Rose Bowl and so many #B1G moments.

His calls, including this one, will live on forever. pic.twitter.com/zbE01ZxSfn

— Big Ten Network (@BigTenNetwork) January 13, 2018
"He was always working, always busy. ... Then he would do something or drop something or whatever, and oftentimes you'd hear him say, 'Whoa, Nellie! Whoa, Nellie!' And it's kind of stuck to the little old scruffy kid kind of following him around."
A sportscaster who preceded him, Ted Husing, once persuaded Mr. Jackson to be distinctive.
"He said, 'Never be afraid to turn a phrase. And if you make it interesting enough, they may not know what you just said, but they'll look it up,'" Mr. Jackson said in the 2013 interview.
"But the one thing you can't ever forget: The playing field is the property of the players and the coaches," Mr. Jackson continued. "It is not to be used by some fat-butted announcer trying to make a name for himself."
The sports world, including Mr. Jackson's alma mater, Washington State University, were quick to mourn him.
"Incredibly saddened to hear the loss of a broadcasting legend, the voice of college football across the Country, and WSU Cougar great, Keith Jackson," the school's football program said on Twitter. "His impact will live on forever."
"Keith Jackson was the voice of college football," former NFL Hall of Fame running back Marcus Allen said on Twitter. "Rest In Peace my friend."
"Just heard the news that everyone's favorite CFB broadcaster Keith Jackson passed away last night," sportscaster and former Ohio State quarterback Kirk Herbstreit said on Twitter. "Can close my eyes and think of so many of his special calls. Thank you Keith for all the memories and the grace in which you provided them. RIP Keith."
Mr. Jackson got his start by broadcasting football games for Washington State, from which he graduated in 1954.
His ABC career began in 1966 and included numerous assignments in baseball, college and professional football, college basketball and other sports, the university said.
He was part of ABC's original Monday Night Football broadcast team — with Howard Cosell and Don Meredith — when the program debuted in 1970.
Mr. Jackson also broadcast for ABC's "Wide World of Sports" and helped cover the 1972 Munich Olympics massacre, in which Israeli athletes were killed by members of a Palestinian terrorist movement.
After initially saying he was retiring in 1999, the American Sportscasters Association Hall of Fame member announced a few months later that he would continue with ABC, by broadcasting primarily West Coast games, closer to his California home.
He retired in 2006, after calling the Rose Bowl game in which Texas beat Southern California and clinched the national championship.
"For generations of fans, Keith Jackson was college football," said Bob Iger, CEO of Disney, which owns ABC and ESPN. "When you heard his voice, you knew it was a big game. Keith was a true gentleman and memorable presence. Our thoughts and prayers go out to his wife, Turi Ann, and his family."
Guidelines: Please keep your comments smart and civil. Don't attack other readers personally, and keep your language decent. Comments that violate these standards, or our privacy statement or visitor's agreement, are subject to being removed and commenters are subject to being banned. To post comments, you must be a registered user on toledoblade.com. To find out more, please visit the FAQ.