LAMBERTVILLE — Lawrence P. Maher, a 29-year Toledo firefighter who remained steadfast no matter the station or duty he was assigned, died Jan. 31 in Mercy Health St. Anne Hospital. He was 83.
His heart had been weakened by treatment for bone cancer, his daughter Sheila Dempsey said.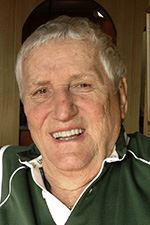 Maher
Mr. Maher retired in January, 1994, from the Toledo fire department. He'd been promoted to lieutenant in December, 1988.
He was appointed to the fire service in November, 1965, and worked from stations across Toledo — including No. 1 downtown, No. 3 in North Toledo, No. 4 on Hill Avenue, the former No. 8 at Indiana Avenue and Division Street, No. 12 on Suder Avenue, No. 15 on Fearing Boulevard, No. 16 on Dorr Street, No. 17 when it was at Detroit and Nesslewood avenues, and No. 18 on Lewis Avenue.
"He was known by an awful lot of people," said Robert Schwanzl, a retired Toledo assistant fire chief. "He was a very proud Irishman, and he always seemed to have a smile."
He also worked on No. 1 and No. 4 rescue squads, said Mr. Schwanzl, who oversaw the fire prevention bureau when Mr. Maher was an inspector charged with code enforcement.
"You could count on him to go out and do a good job," Mr. Schwanzl said. "I think he enjoyed just coming in and going to work every day. He felt he was making a difference."
Mr. Maher retained his good humor, which leaned sarcastic, after a shift on duty.
"I never knew when he had a bad night," his daughter said. "He had a good Catholic faith. That meant a lot to him too."
When he learned retired comrades were ill, he visited them, his daughter said. He attended the annual Mass at the Historic Church of St. Patrick to honor firefighters. And he still attended grade-school reunions.
"He was very loyal," his daughter said.
Born Jan. 6, 1935, to Regina and Robert Maher, he grew up in West Toledo and attended Gesu School and Central Catholic High School, from which he graduated in 1953.
He was an Army veteran and served in Europe. Before becoming a firefighter, Mr. Maher worked at Jeep.
He attended John Carroll University and what is now Owens Community College.
Mr. Maher and his wife moved from Tetherwood Drive in West Toledo to Lambertville about 20 years ago. He was a former member of St. Clement and Christ the King parishes. He volunteered for funeral luncheons at Our Lady of Mount Carmel in Temperance, where he was a parishioner most recently.
"He was a good man who wanted to help others. That was his way to help and be part of the parish," his daughter said.
He also was a Meals on Wheels volunteer. He was a member of the Knights of Columbus, the Elks, and the Ancient Order of Hibernians.
Surviving are his wife, Stephanie, whom he married Nov. 17, 1962; daughters, Chris Vincent, Colleen Maher, and Sheila Dempsey; sister, Rita Spieker, and five grandchildren.
At his request, Mr. Maher's body was donated to the University of Toledo's College of Medicine and Life Sciences, the former Medical College of Ohio.
Memorial services will begin at 11 a.m. Saturday at Our Lady of Mount Carmel Church, Temperance, with visitation after 10 a.m.
A Toledo firefighters' Last Alarm Service will follow.
Contact Mark Zaborney at mzaborney@theblade.com or 419-724-6182.
Guidelines: Please keep your comments smart and civil. Don't attack other readers personally, and keep your language decent. Comments that violate these standards, or our privacy statement or visitor's agreement, are subject to being removed and commenters are subject to being banned. To post comments, you must be a registered user on toledoblade.com. To find out more, please visit the FAQ.