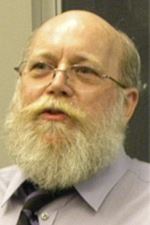 Dr. Neal L. Carothers
BOWLING GREEN — Neal L. Carothers, a former mathematics professor and researcher at Bowling Green State University, died Jan. 29 at his Bowling Green home. He was 65.
He died of heart failure, sister Rebecca Carothers said.
Born Nov. 16, 1952 in Toledo to Harold and Retha Carothers, he obtained a bachelor's degree at the University of Toledo in 1974, and a doctorate in 1982 from Ohio State University.
"He was brilliant," Ms. Carothers said. "Once he decided on math, he loved it and just kept going. He wanted to learn as much as he could about it."
Mr. Carothers specialized in functional analysis and held teaching positions at Wayne State University, Oklahoma State University, University of Texas-Austin, and Texas A & M University before joining the staff at BGSU in 1987.
In the university's department of mathematics, he was department chairman from 1999 to 2007 and served as a member of its Advisory, Personnel, and Promotion and Tenure Committees.
His work was published numerous times in various journals, including Transactions of the American Mathematical Society and the Israel Journal of Mathematics, and he also wrote two books. His textbook, Real Analysis, was published in 2000 and is still in use at BGSU today, his sister said.
Mr. Carothers retired from the university a few years ago, but continued his research work at home.
"He had wished to write another book, but I don't know if he completed it," Ms. Carothers said.
While other members of the family are also very bright, she said, Mr. Carothers was the only one to go into mathematics.
"He used to get a little frustrated when people would ask him about balancing their checkbook," Ms. Carothers said. "He always said there was more to math than balancing a checkbook."
At home, Mr. Carothers indulged in a broad range of interests, including cooking, reading, and pop culture. He developed very close relationships with his entire family and a few intimate friends.
"He was kind of my go-to guy when I needed someone to talk to. We would talk on the phone for hours," his sister said. "It's like losing a best friend."
Mr. Carothers is survived by his sisters, Sheryl Walker, Janean Vick, and Rebecca Carothers.
A memorial service will be scheduled, with funeral arrangements being handled by Dunn Funeral Home in Bowling Green.
The family suggests memorial contributions be made to BGSU.
Contact Alexandra Mester at: amester@theblade.com, 419-724-6066, or on Twitter @AlexMesterBlade.
Guidelines: Please keep your comments smart and civil. Don't attack other readers personally, and keep your language decent. Comments that violate these standards, or our privacy statement or visitor's agreement, are subject to being removed and commenters are subject to being banned. To post comments, you must be a registered user on toledoblade.com. To find out more, please visit the FAQ.