FREMONT — Barbara Tuckerman, known for her even-handedness during a long tenure with the Sandusky County Board of Elections and for her staunch support of Democratic Party causes off duty, died Feb. 7 in her Fremont home. She was 76.
She died in her sleep, and the cause is not known, son Joel said. "It was unexpec- ted," he said.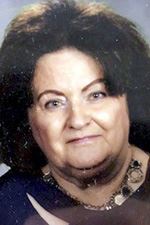 Tuckerman
Ms. Tuckerman retired at the end of 2017 as deputy director of the board of elections. She'd also served as director of the board. In both roles, her duty was to make sure elections were fair and accurate.
"Everybody was treated with respect and dignity who came into that office," said James Sherck, a Democrat and a retired judge who served on the 6th District Court of Appeals and Sandusky County Common Pleas Court.
"For Barb, politics ended when she entered the door of the board of elections," Mr. Sherck said. "I think her record was very admirable. The elections generally went very smoothly, very little controversy in terms of the election process. The longer she was there, the smoother they ran.
"She was a very public-spirited person, and she wanted to make sure that office performed well on Election Day," he said.
The family has heard from her political opposites.
"A lot of Republicans are saying, even though we agreed to disagree, that she put the process above her party beliefs," her son said.
Ms. Tuckerman drew praise as well from a lawyer involved with election-related disputes through the years.
"She was always prompt and professional and never let political squabbles affect her job performance," Andy Mayle wrote in a letter to the editor published in the Fremont News-Messenger. "It's refreshing to see such humble public servants effectively perform their duties to further open and fair elections."
Ms. Tuckerman was appointed to the board of elections in 1987 to fill a vacancy.
She was former chairman of the Sandusky County Democratic Party and had planned this year to run for the party central committee. Her interest in politics and support of Democrats went back decades, said her son, who recalled going with her to party headquarters at age 6 to help stuff envelopes.
She wanted to help people in need. From her experience as a single mother of four, "she understood some of the situations people end up in," her son said.
She attended several Democratic National Conventions and President Bill Clinton's second inauguration in 1996. A photo of her shaking the president's hand "was her favorite picture in the world," her son said.
She was outspoken in her beliefs and a presence in any room she entered, Mr. Sherck said.
Her son said: "She would tell you straightforward everything." Yet she never considered a run for office herself.
"I don't think she ever wanted to put herself out there," her son said.
She was born April 11, 1941, in Fostoria, Ohio, to Catherine and William Wolph, the first of what would be nine children. She was a graduate of St. Wendelin High School in Fostoria. She was a former clerk in the real estate transfer section of the county auditor's office.
She was formerly married to David Tuckerman.
Surviving are her daughter, Kristine Brown-Mancini; sons, David, Eric, and Joel; brothers, Vincent, Jim, Don, William, Jr., and George Wolph; sisters, Mary Brickles and Kathleen Anderson; 10 grandchildren, and five great-grandchildren.
There will be no services. The family will greet friends from 2 to 5 p.m. Saturday at Wonderly Horvath Hanes Funeral Home, Fremont.
The family suggests tributes to Easter Seals, the American Red Cross, or the Wounded Warrior Project.
Contact Mark Zaborney at mzaborney@theblade.com or 419-724-6182.
Guidelines: Please keep your comments smart and civil. Don't attack other readers personally, and keep your language decent. Comments that violate these standards, or our privacy statement or visitor's agreement, are subject to being removed and commenters are subject to being banned. To post comments, you must be a registered user on toledoblade.com. To find out more, please visit the FAQ.