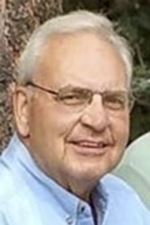 MacDonald
Leland "Nick" MacDonald, a veteran area dentist who volunteered his professional services in retirement, died Wednesday in his Perrysburg home. He was 79.
He died after a series of back surgeries, his daughter, Tami Krueger, said.
Mr. MacDonald retired in 2006 after nearly 40 years of practicing dentistry.
He owned and operated a dental practice on Navarre Avenue in Oregon from its inception in 1978 until 2001, when he was joined by Joseph Sexton. They co-owned and ran the practice until Mr. MacDonald retired and turned it over to Mr. Sexton.
Prior to that, Mr. MacDonald had a dental practice in East Toledo for several years.
He was also credited with helping establish the Toledo area's first emergency dental service, his daughter said.
In retirement, Mr. MacDonald continued to practice dentistry as he traveled throughout Ohio, working part time and volunteering through the Dental Center of Northwest Ohio until a few years ago.
Over the years, he had also served on the Toledo Dental Society's board of directors.
His professional memberships included Pierre Fauchard Academy, an international honorary dental organization.
"He was a father figure to many people professionally and personally," Mr. Sexton said. "His advice was immeasurable in many instances. His wisdom from many years of experience would always lead you in the right direction."
Mr. MacDonald was born Sept. 15, 1938, in Toledo to Leland and Mary MacDonald.
In 1956, he graduated from Waite High School. He then continued his education, graduating from Hillsdale College in 1960 with a bachelor's degree in science, the first in his family to graduate from college.
In 1961, he volunteered for the Army and then served in the 101st Airborne Division stateside until his honorable discharge in 1964.
Upon his discharge, he enrolled in the Ohio State University College of Dentistry, from which he graduated in 1967.
In his free time, Mr. MacDonald liked to be with his family. He also enjoyed fly fishing and attending Ohio State football games.
Surviving are his wife of 41 years, Susan MacDonald; daughters, Debbi Tucker, Tami Krueger, and Sarah Ruha; sons, Aaron Daler and Justin Daler; sister, Kathy Horvath; brother, Pete MacDonald, and six grandchildren.
Services will be at 10:30 a.m. Tuesday at Holy Trinity Greek Orthodox Cathedral, 740 N. Superior St. Arrangements are by the Ansberg-West Funeral Home.
The family suggests tributes to the Dental Center of Northwest Ohio or the church.
Contact Mike Sigov at sigov@theblade.com, 419-724-6089, or on Twitter @mikesigovblade.
Guidelines: Please keep your comments smart and civil. Don't attack other readers personally, and keep your language decent. Comments that violate these standards, or our privacy statement or visitor's agreement, are subject to being removed and commenters are subject to being banned. To post comments, you must be a registered user on toledoblade.com. To find out more, please visit the FAQ.