TIFFIN — Frank D. Iannantuono, who endured 28 months of brutal treatment as a prisoner of war during the Korean War and in recent decades found solace in the bond of shared experience at POW reunions, died July 4 in Good Shepherd Home in Fostoria. He was 90.
He had cancer, said his nephew Christopher, whose father was Mr. Iannantuono's late brother Tony.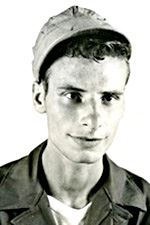 Iannantuono
He retired at age 60 as a lathe operator at what is now Webster Industries in Tiffin, where he worked before he was drafted. He didn't say much about the war or about being a POW until he got older, his nephew said. Family knew his physical condition upon his release — at 6 feet tall, he weighed less than 100 pounds. He did not leave his room for about three months after his return.
"His mind was so strong. That got him through that," said Velma Iannantuono, who was married to his late brother John. "Nobody ever really asked him questions about what happened. They figured when he wanted to talk, he would."
When he spoke, he recalled his fellow prisoners who perished — as a result of dysentery and other illnesses — and the mud floors in their quarters and the insect-infested rice.
"As people got weak, he would work with them and try to keep their hopes up," his nephew said.
A few months ago, he called his sister-in-law Velma to speak about what the POWs endured.
"God bless him, I think he just wanted to get stuff off his chest," she said. "He said he was lucky."
For the first nine months of his captivity, he was listed as missing in action. His mother cried every night.
"They assumed he was dead," his nephew said.
He was released after an armistice ended fighting in 1953.
Mr. Iannantuono never traveled much, but looked forward to the reunions around the country of the Korean War Ex-POW Association.
"Once he went, then I think he found some camaraderie and kindred souls," his nephew said.
"He was an example of someone who in my opinion never caught a break," his nephew said. "He could have had every excuse in the world to feel sorry for himself. He maintained a loving zest for humans, for life. Frank really to me understood the importance of life and the value of each person."
Despite the trauma — he had night terrors for years, his nephew said — he chronicled family history through the photos he took of his siblings and their children. He was witty and enjoyed the family sport of good-natured arguing.
"You had to be sharp and were expected to make some sense," his nephew said. "They argued in an honest way, not an argumentative way."
He taught himself to play guitar, harmonica, and accordion. He liked the Beatles and Dean Martin and show tunes.
"He'd go from rock 'n'roll to opera," his nephew said.
He was born May 5, 1928, in Tiffin, to Bambina and Daniel Iannantuono, the oldest of what would be six children. His father had come to the United States in 1920 from San Bartolomeo, Italy, and his mother followed in 1928. They settled in Tiffin, as had several other families from their community.
He and his next oldest brother, Tony, were expected from an early age to work and help with family expenses. During World War II, they collected scrap metal, rubber, and newspapers.
He left Calvert High School at age 16 and learned the skill of hand glass cutting at the Tiffin Glass House. He tried to enlist in the military at age 18, after the war had ended, but a mild heart condition — and flat feet — kept him out.
Mr. Iannantuono did not marry. He was close to his nieces and nephews and offered guidance to his siblings-in-law on adjusting to the large Italian-American family.
"He was really good with my children. Three times a week he would come," Velma Iannantuono said. "My husband and him played the guitar. They would play for hours. He was a marvelous man."
Surviving is his sister, Phil Reamer.
Services will be at 10:30 a.m. Saturday at St. Mary Church, Tiffin, with visitation after 9:30 a.m and a recitation of the Rosary at 10:10 a.m.
The family suggests tributes to the United Veterans Council or a charity of the donor's choice.
Contact Mark Zaborney at mzaborney@theblade.com or 419-724-6182.
Guidelines: Please keep your comments smart and civil. Don't attack other readers personally, and keep your language decent. Comments that violate these standards, or our privacy statement or visitor's agreement, are subject to being removed and commenters are subject to being banned. To post comments, you must be a registered user on toledoblade.com. To find out more, please visit the FAQ.