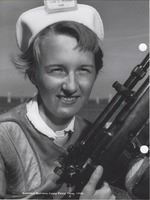 Janet Sue Spohn
Janet Friddell Spohn, whose prowess in national shooting matches won trophies and made headlines while she was still a Rogers High School student, died Wednesday in St. Luke's Hospital, Maumee. She was 77.
She'd been treated several years ago for cancer and congestive heart failure, but her death was unexpected and the cause unknown, said her husband, Richard Spohn.
As 17-year-old Janet Sue Friddell, she won the first of what would be three women's national small-bore rifle championships in 1958 at Camp Perry. She also won the 1958 junior championship at Camp Perry.
In December, 1958 she received a trophy from the former Toledo Times as an outstanding amateur athlete of the year, alongside boxer Wilbert "Skeeter" McClure, another recipient who went on to win a gold medal at the 1960 Rome Olympics. She also was named a Times outstanding amateur athlete in 1962.
Mrs. Spohn repeated her national women's titles in 1961 and 1962. As a member of the United States' team, she competed in world shooting championships in Cairo. She also took part on other top-flight teams, including in 1961 as the first woman on the U.S. team for the Pershing championship, an international match.
"She zoned into it," said her son, Ron Spohn. "The sport kind of found her, and it was her niche. She just excelled."
Her adoptive father, Otis Friddell -— who was her biological grandfather — was a gunsmith who offered his services at Camp Perry and formed the rifle club at Rogers High. She started shooting at age 13 and took formal instruction at Camp Perry. She entered her first match in 1957 and won her first medal.
"She was just down to earth. She was just plain old Janet," said Evelyn Hartman, a friend since grade school in the former Adams Township. "There was no self-glory or anything. She took it all in stride."
Mrs. Spohn and her father had an understanding, she told The Blade in 1962: she would be self-sufficient, registering for events and taking care of her equipment herself. With the barracks a mile away from the firing line, she loaded a little red wagon with her gear for the journey. The wagon became her trademark, decorated with "Jan Friddell" in white letters along the side.
"You could look all the way down the firing line, and you'd know where she was, because you saw her wagon," her son said.
She spoke of her triumphs, but only with prompting.
"Mom was really modest, and she wasn't one to boast and talk a lot," her son said.
She did keep scrapbooks, though, and after returning from Egypt wrote a detailed account of her experiences. With that material, plus photos and published mentions of her records, her son put together a book, which he self-published as a gift for Mrs. Spohn and other relatives.
She took a hiatus from competition to care for home and children, but returned in the 1970s. She and husband also went shooting.
"I didn't have the patience. She did," her husband said. Her children later got involved in the sport, taking part in a shooting club and then as members of the University of Toledo rifle team.
After she stopped competing, she acted as team captain for U.S. women's teams, including the 2007 group that won the Randle Women's International Team Trophy.
The daughter of Marceille Vida, she was born April 19, 1941, in Findlay. She was adopted by her mother's parents, Myra and Otis Friddell, and graduated Rogers in 1959.
She retired as a customer-service supervisor for The Pharm drugstore at Parkway Plaza in Maumee, where she worked for more than 20 years.
Sewing and knitting for family and taking family photos became favorite pastimes.
"Mom was a very quiet person, but once you got to know her, she was really warm and sweet," her son said. "She was a great person to be around."
Surviving are her husband, Richard Spohn, whom she married Oct. 16, 1967; daughter, Pam Righi; son, Ron Spohn; sisters, Marian Ridgway and Luella Dunlap; brothers, Victor and Jeff Vida, and three grandchildren.
Visitation will be from 3-7 p.m. Sunday in the Maison-Dardenne-Walker Funeral Home, Maumee. Funeral services will begin at 11 a.m. Monday in the First Presbyterian Church, Maumee.
Contact Mark Zaborney at mzaborney@theblade.com or 419-724-6182.
Guidelines: Please keep your comments smart and civil. Don't attack other readers personally, and keep your language decent. Comments that violate these standards, or our privacy statement or visitor's agreement, are subject to being removed and commenters are subject to being banned. To post comments, you must be a registered user on toledoblade.com. To find out more, please visit the FAQ.