Congress appropriately took time out recently to honor 13,000 men and women who served their country in World War II in secret service — among them Arthur Jibilian of Fremont.
Members of Congress awarded the Congressional Gold Medal to all who served in the Office of Strategic Services. U.S. Rep. Bob Latta (R., Bowling Green), who sponsored the legislation to honor the OSS veterans, highlighted the late Mr. Jibilian.
Click here to view more Blade editorials | Check out the Behind The Editorial series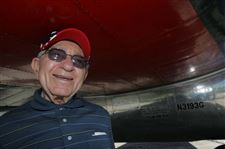 Arthur Jibilian, 85, was in the Office of Strategic Services, an intelligence agency that was the predecessor of the CIA.
Mr. Jibilian, who died in 2010, played a crucial part in Operation Halyard, in which some 500 downed Allied airmen — mostly Americans — were evacuated in Serbia while Nazis combed the hills and villages searching for them.
Operation Halyard is depicted on the Congressional Gold Medal, which will be displayed at the Smithsonian Institution, but could be moved to the OSS museum once construction is complete.
Mr. Jibilian went years without discussing his work with the OSS, the predecessor of today's Central Intelligence Agency. But after stories about the rescue started to seep out, Mr. Jibilian talked up the role that others had in the operation. He even traveled to Serbia.
Mr. Latta and U.S. Rep. Marcy Kaptur (D., Toledo) participated in the ceremony in Washington.
"Arthur Jibilian ... epitomized the bravery and selflessness of those that served in the OSS," Mr. Latta said
Another who served in the OSS and who shares in the honor was Miss Kaptur's uncle, Anthony Rogowski, whose medals include Army Good Conduct, American Theater Medal, Pacific Theater Medal, and World War II Victory Medal.
It is of the greatest importance that heroes like Mr. Jibilian and Mr. Rogowski are recognized by our civic institutions as inspirations for future generations.
Guidelines: Please keep your comments smart and civil. Don't attack other readers personally, and keep your language decent. Comments that violate these standards, or our privacy statement or visitor's agreement, are subject to being removed and commenters are subject to being banned. To post comments, you must be a registered user on toledoblade.com. To find out more, please visit the FAQ.