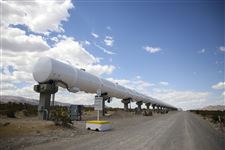 The 500 meter or .31 mile Devloop or Development loop, essentially a test tube, for the Virgin Hyperloop One pod stretches out along a wide gravel road on the north end of the testing facility in the Mojave Desert on May,18, at the Virgin Hyperloop One testing facility in Apex, Nev.
Pittsburgh Post-Gazette/Jessie Wardarski Enlarge
The mass transportation concept Hyperloop, which could move passengers at speeds up to more than 700 miles per hour, is rapidly overcoming skepticism.
A test facility in the Mojave Desert in Nevada has already proven that the glorified pneumatic tube can operate exactly as inventor Elon Musk theorized.
Click here to view more Blade editorials

The concept is that "pods" about the size of a tractor-trailer would be propelled by electric power through a long vacuum tube. The Hyperloop's speed and efficiency arise from eliminating air resistance inside the tubes.
Obvious huge hurdles remain, considering the cost and complexity of laying the pipes, which would be above ground.
The Mid-Ohio Regional Planning Commission is pushing to have the first operational hyperloop system in the United States built on a 488-mile corridor linking Pittsburgh to Chicago via Columbus — a trip that likely would take up to 48 minutes. The Mid-West Connect proposal was one of 10 that Virgin Hyperloop approved to move ahead after a worldwide competition last year.
U.S. Rep. Marcy Kaptur (D., Toledo) has already made a bid for Toledo to be part of a route that would travel north rather than through Columbus. Miss Kaptur in January joined three Cleveland-area representatives in urging research on locating the Pittsburgh-to-Chicago route through the northern part of the state. A spokesman said U.S. Rep. Bob Latta (R., Bowling Green) also supports a Toledo route.
A local group formed, called the Hyperloop Initiative of Toledo, and pointed out in a letter last year to Hyperloop One and SpaceX that the route via Toledo and Cleveland travels through a more dense population than one through Columbus.
Even a route that skirts Toledo as far away as Columbus is worth Ohio's lawmakers and corporate movers and shakers fighting for. If Hyperloop has benefits for travelers between Pittsburgh, Columbus, and Chicago, the benefits and profits will be there for service to Toledo, Cleveland, and Detroit as well.
Hyperloop sounds futuristic, but futuristic concepts suddenly become practical. Head engineer Rob Ferber told the Pittsburgh Post-Gazette for a report that was published in The Blade last week that the tests in Nevada prove that the concept works.
The Toledo-Lucas County Port Authority should be following the Hyperloop's progress with close interest.
Guidelines: Please keep your comments smart and civil. Don't attack other readers personally, and keep your language decent. Comments that violate these standards, or our privacy statement or visitor's agreement, are subject to being removed and commenters are subject to being banned. To post comments, you must be a registered user on toledoblade.com. To find out more, please visit the FAQ.